Book release at JTH of handbook for first-line managers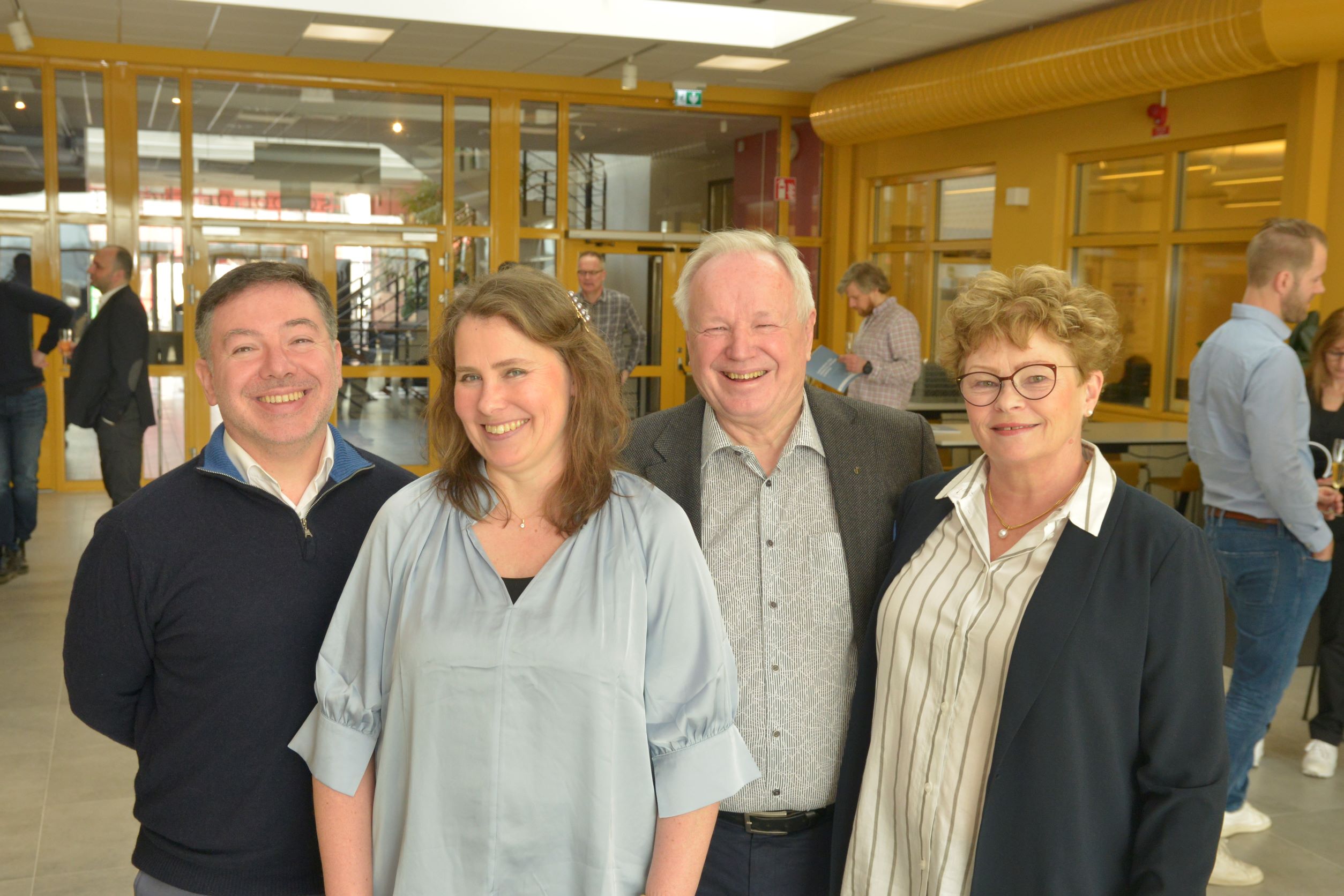 At the end of March, the School of Engineering (JTH) at Jönköping University (JU) held a book release for a book with the title "Handbook for first-line managers", written by a group of researchers and teachers at JU in collaboration with Fagerhults Belysning and Scania.
"Spending time on leadership in general, and on developing first-line managers in particular, is an investment that pays off," says Johan Karltun, Associate Professor Work of Organisation at JTH and project manager for the handbook, which is in Swedish only.
In addition to Johan Karltun the project group at JU that has made the book includes Anette Karltun, Associate Professor Work Organisation at JTH, Karin Havemose, Senior Lecturer Work Organisation at JTH, Denis Coelho, Associate Professor at JTH and Sofia Kjellström, Professor Quality improvement and leadership at the School of Health and Welfare.
"We must not forget to develop people"
The work with the handbook has taken place within the research project Reacts, which aims to answer how first-line managers can meet expectations of productivity, profitability, a good work environment and more while being exposed to daily disruptions within the business.
"In times when we talk a lot about automation, we must not forget to develop people. The people make the systems work at all and without them, the processes stop," says Johan Karltun.
Ingrid Wadskog, Managing Director and Dean at JTH, thinks that the handbook looks very good and that it was nice that so many from the companies in the project joined the book release.
"This is a good example and a clear result of JTH's close collaboration with the business community," she says.
Read the handbook in two evenings
The handbook will be used as a working material in the manufacturing industry and Anette Karltun is particularly pleased that it is clearly written and easy to absorb.
"Our benchmark was that you should be able to read the book from beginning to end in two evenings, and we have accomplished that goal. This is collaboration in practice and the book can also be used by people in managerial positions outside the industry," says Anette Karltun.
Managers at Scania and Fagerhults Belysning have contributed to the handbook with insights from their daily work. The handbook thus contains tools and methods that make it easier for first-line managers in both their daily and strategic work.
"Great use for the handbook"
André Thorsell, product technical manager at Scania, and Daniel Hjerpe, production manager at Fagerhults Belysning emphasize that you have great use for the handbook as a first-line manager. It will also be helpful when you have worked for a while to see what you can develop in your managerial role.
"You may need a little help along the way as a first line manager and you get that through this handbook," says André Thorsell.
Download the handbook for first-line managers here (In Swedish only)
Download the handbook here, in English

External link, opens in new window.