JTH student listed as sustainability talent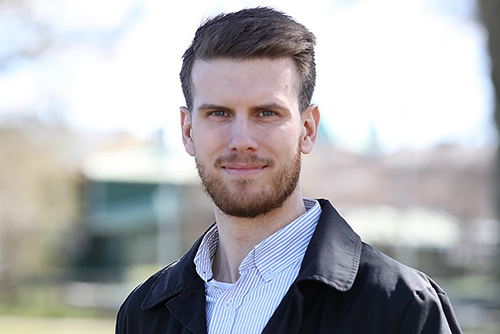 For the second year in a row, two former students from Jönköping University are listed as sustainability talents, by the magazine "Aktuell hållbarhet". One of them is Niklas Carlborg, 31 years old, who has an engineering degree in Building Technology with a specialization in Building Design with Architecture.
"The programme has been a good springboard for me, I've been able to immerse myself in sustainability in the construction and property industry in my professional life," says Niklas Carlborg.
Each year "Aktuell hållbarhet" lists 33 people in Sweden, all 33 years or younger, who have made a mark in the field of sustainability. The list includes, among other things, programmers, politicians, community planners and entrepreneurs. Niklas Carlborg works as a project manager, planning manager and sustainability manager at the technology consulting company Sweco. This means, among other things, that he is involved in various competence-enhancing projects internally within sustainability.
The climate footprint is decisive for decisions
Niklas has a great commitment and wants future generations to have the same conditions as we have. Therefore, every new project starts with the question "How can we make this project more sustainable?". Thus, the climate footprint will become a decisive parameter for all decisions in a project.
When asked how it feels to be on this year's list, he replies that it is great fun.
"It is energizing to hear that the work you put in is appreciated and seen by many. It is important to continue fighting for a sustainable future," concludes Niklas Carlborg.
An inspiration for a sustainable future
The second former JU student on "Aktuell hållbarhets" list of the country's sustainability talents is Melker Larsson, 24 years old, with a degree from the Sustainable Enterprise Development at Jönköping International Business School (JIBS).
"The education influenced me a lot, especially in my way of thinking. I feel that the subjects that the programme covered opened up new conversations and perspectives that I did not have access to before," says Melker Larsson.