The initiative that will strengthen Swedish industry is under way
Last Friday, Jönköping University's new research and education environment within knowledge intensive product realization – SPARK – was opened. The environment will contribute to the development of the region's and Sweden's manufacturing companies towards more knowledge intensive products and processes.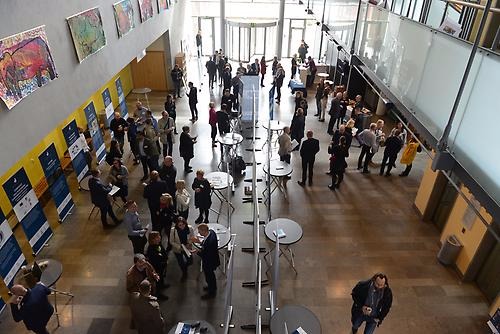 The opening was started with an exhibition, in which around 30 of the university's ongoing research and education projects connected to knowledge intensive product realization were presented. The projects cover a broad spectrum of areas, such as logistics, IT, foundry technology and orthopaedic technology, and are run in collaboration with almost 70 different companies.
During the event, five speakers shared their view on the opportunities that come with the new environment. One of them was Andreas Rangert, VP Product Management & Development at Husqvarna Group:
"From Husqvarna's side, we consider this as a very important initiative. SPARK will contribute with valuable competence, and in the longer term we think that research collaboration within knowledge intensive product realization will have a positive bearing on our product and production strategies. For us, and for the whole region of Jönköping, this will be an exciting journey for the years to come."
The other speakers were Madelene Sandström, CEO of the Knowledge Foundation, Gustav Österström, CEO of Science Park, Malin Olsson, Region Jönköpings län, and Mats Jägstam, acting president of Jönköping University. According to Gustav Österström, competition and technological shifts force us to constantly develop new knowledge:
"We have to create the right conditions for knowledge development among organizations and individuals, since this is the basis for innovation. Through this environment, we connect research, education and the innovation system in a way that create new collaborations in new constellations. The result will be increased innovation in this region."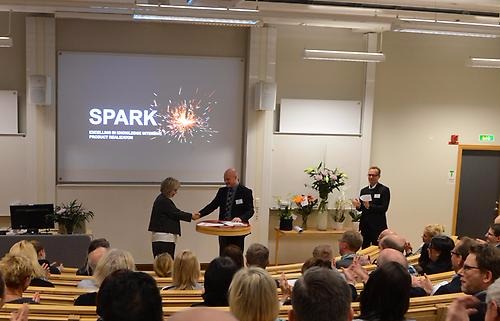 SPARK is supported by the Knowledge Foundation. During last Friday's event, a 10-year partnership agreement was signed by Jönköping University and the Knowledge Foundation. During her speech, Madelene Sandström highlighted the long term and the importance of the university's initiative:
"It has taken several years' work to reach today's start. This is not a project and not a centre, but a support for Jönköping University to achieve your own ambitions. SPARK will be the future for the university and for the whole region of Jönköping."
Almost 120 guests participated in the opening event. From the industry, Husqvarna Group, Volvo Cars, SAAB Group, the Swedish Foundry Association and a number of companies from the region were represented. Among the other guests there were representatives from Region Jönköpings län, Jönköpings kommun, Science Park, Jonkoping Chamber of Commerce, the Knowledge Foundation, other universities and Jönköping University.
The name – SPARK – indicates that the initiative will be an igniting spark for innovation and competitiveness in the region and the rest of Sweden. It will contribute to an increased knowledge content in products and processes in Swedish companies.