Embedded in the region and engaged worldwide, we bridge knowledge and society, developing the talent of tomorrow. This is Jönköping University's mission statement, the overarching direction that characterises everything we do and guides our development.
Rooted in the region of Småland, and with an international foothold, we prepare to meet the needs of the future. Digitalization and globalisation have altered the academic landscape and the creating relevance and value has become vital for maintaining a competitive advantage for the world's higher education institutions. To utilise and refine our strengths, the Foundation Governing Board has decided on five strategies which will create conditions to enhance sharing of knowledge, strengthen the university, support our students and facilitate our contribution to an ever-changing society.
Jönköping University is well-equipped to face future challenges. We are anchored in the region and our international profile places us in a strong position globally.
We look forward to continuing to build bridges between knowledge and society together.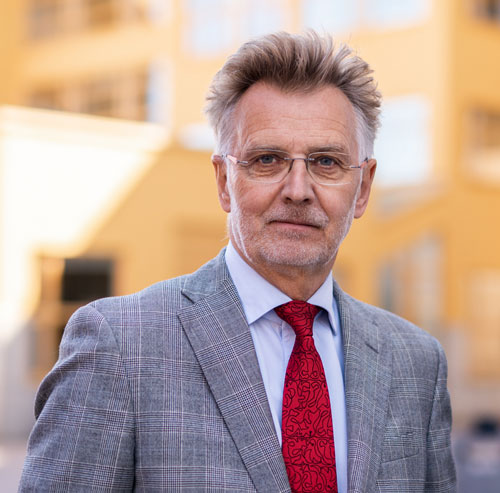 Anders Danielsson
Chairman of the Jönköping University Foundation Governing Board

Monica Dahlbom

Ordförande stiftelsestyrelsen Jönköping University

Visa mer

Monica Dahlbom är kammarrättspresident för Kammarrätten i Jönköping sedan 2016

Agneta Marell

Rektor vid Jönköping University

Visa mer

Agneta Marell är professor i företagsekonomi, och har varit rektor vid Jönköping University sedan 2017.
Embedded in the region and engaged worldwide we bridge knowledge and society, developing the talent of tomorrow.
We are leading as a collaborative, internationally connected and globally oriented university.
We co-create knowledge and innovate with society.

Visa mer

Innovation and value creation occur when academia and society meet. A wellestablished collaboration with business
and the public sector is subsequently an integral part of operations at Jönköping University. Close collaboration promotes
quality and relevance while also contributing to development of the university, the region's entrepreneurial traditions and international attractiveness.
Through knowledge development and innovations and together with our partners, we participate in societal development and actively contribute to Sweden's innovation power and competitiveness. We generate societal benefits in our region, in Sweden, and in the world, through research-based knowledge, innovative ideas and by developing competencies that are relevant for the future.

We collaborate across borders.

Visa mer

Global engagement and international collaboration are success factors for Jönköping University.
Through increased mobility and long-term collaborations across borders we build alliances and partnerships that generate knowledge and create new perspectives across nations, cultures, languages, and disciplines. Different approaches meet and create conditions which facilitate the sharing of knowledge. This serves the
purpose of strengthening the university, our students, and our contribution to society. Collaboration is also crucial for our development, our relevance, and for success in a dynamic world which is subject to rapid change.
Our collaboration and international character permeates who we are, through it we create "global competence" and play an important role in promoting socially responsible participation in a multicultural society.

We promote lifelong learning in a diverse and entrepreneurial environment.

Visa mer

Jönköping University is an open and accessible university. We offer educational opportunities for everyone regardless of
social background, stage in life or career.
Digitalisation, globalisation, and a changing labour market are transforming industries, professions and workplaces and are placing ever increasing demands on the continuous development of skills throughout working life.
Our focus on lifelong learning is characterised by inclusion, the creation of opportunities and the joy of discovery. It provides individuals the prospect of fulfilling their dreams and life goals while contributing to the development
of key competencies required within the region. Jönköping University is crucial for Sweden's competitiveness, now and
in the future.

We research and educate with commitment.

Visa mer

Lecturers and researchers at Jönköping University integrate education and research. Creation, dissemination and transfer of knowledge ensure that higher education, research, and innovation can come together to facilitate responsible growth and prosperity.
We meet future needs for a skilled workforce. By offering relevant educational programmes and courses and with our
highly committed lecturers and researchers. We promote the exchange of knowledge and contribute to sustainable development grounded in scientific principles.
Education and research are interconnected with a focus on relevance and added value. We offer a dynamic, modern, and open environment for research and education, where critical thinking and creative freedom are valued.

We contribute to a sustainable future.

Visa mer

Jönköping University enables future generations to live in a sustainable world. No one can solve the challenges that the
world faces in isolation – all members of society have a common responsibility to support all necessary changes.
We must increase our efforts to solve the ecological, social, and economic challenges in society. Our work is based
on the Sustainability Development Goals outlined in Agenda 2030 and this permeates our activities.
Our research and our education programmes highlight problems, create opportunities, and identify solutions. In doing so, we contribute with new insights and knowledge for a sustainable future.
Conducting high-quality research and education in collaboration with surrounding society and with a
high degree of internationalisation is crucial for JU's continued development. Quality assurance work in research and education is subsequently prioritised within JU's strategic management plan. This, in turn, requires that systematic and continuous improvement work is carried out as an integral part of ongoing operations.
To promote development, further strengthen quality, and streamline operations, JU needs to bolster funding for research and research-related education. JU works actively to secure funding from public and private stakeholders, and to increase international funding. The re-establishment of a Grants Office within JU will serve to increase our ability to apply for external support, with a focus on attaining EU funds.
Competition for competent staff and motivated students is increasing. Jönköping University must continue to be a highly desirable option. A strong research environment and balance between education and research are important for gaining a competitive edge to attract students and staff. The possibility to conduct research within the framework of one's position is a key factor to be able to successfully recruit high quality researchers and lecturers. JU's "HR Excellence in Research" certification, awarded by European Commission, demonstrates that the university has excelled in establishing good working conditions. An increased focus on sustainability is important for both students and employees. JU works continuously to develop educational programmes that will meet future labour market demands.