Jönköping University boosts Swedish wooden housing

In Sweden, there's an urgent need for multi-family housing adapted for special groups. But just start building won't do – it has to be done in the right way. Jönköping University is one of the initiators behind the research project BOOST, focusing on housing in wood and glass.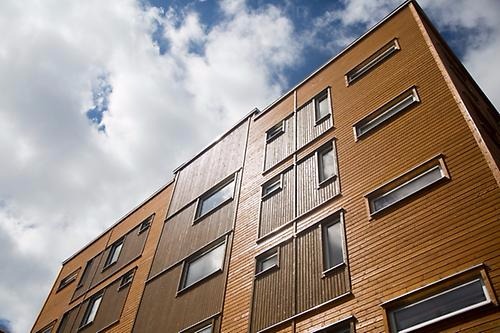 BOOST, standing for "Housing and residential development for enhanced growth", is a three-year project within the innovation environment "Smart Housing Småland". The project is financed by 18 million SEK from EU and regional stakeholders. Jönköping University is represented with researchers from the School of Engineering and Jönköping International Business School. They're collaborating with fellow researchers from RISE (Research Institutes of Sweden), Träcentrum and the Linnaeus University.
BOOST has identified three different target groups with expressed needs for adapted housing: immigrants, young people and elderly.
"Our aim is to find out the specific needs and opportunities when designing housing for these groups. On this basis, we will examine how to develop the existing business models", says Anders Melander, Associate Professor, business administration at Jönköping International Business School.
Researchers at the School of Engineering will be working to identify the target groups' different requirements and investigate how digital tools can be used to analyze how various proposals meet the requirements.
"We will also develop methods that can help clients and suppliers to evaluate the results. This type of housing is complex with a long supply chain, and a high degree of customer order management. Therefore, it is extremely important to be able to evaluate different solutions in an early stage", says Peter Johansson, Senior Lecturer, building projects at the School of Engineering.
"The ambition is to develop innovative and practical solutions that can be of commercial benefit to the many wooden housing manufacturers in the region. There is a strong momentum in the construction market right now – but the development does not take place within single-family homes and villas. We want to help producers into a pole position in the development of apartment buildings, aiming to contribute to the region's growth."