It's soon time for Valentine's Day, and in her blog post on Vertikals.se, Charlotta Mellander, Professor in Business Administration at Jönköping University, gives us the statistics behind the romance, and reveals where you could find your true love this year…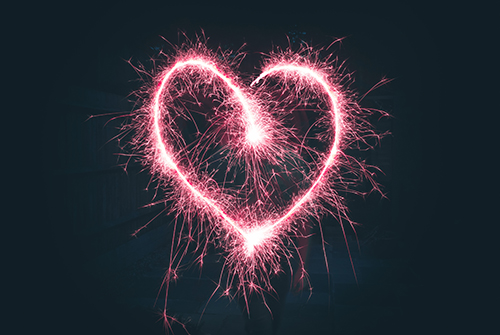 Say it with flowers
In a survey conducted by the Swedish Trade Association in 2016, 48% of Swedes considered Valentine's Day worthy of celebrating. A slightly older study found that 17% thought flowers were probably the best valentine's gift, followed by inviting your true love out to dinner. The least popular gift to receive was a box of geléhjärtan (candied hearts), which is good to know since sales of these tend to increase dramatically the week before Valentine's Day. One in twenty-five people bought gifts, and these individuals were statistically more likely to be women than men.
Where is the love?
If looking to see where in Sweden love blossoms the most, then areas with the most newlyweds might be a good indicator. Solna, where 1.8% of the population were newly married, comes out on top. Knivsta (1.78%), Sundbyberg (1.67%), Gnesta (1.67%) and Stockholm (1.64%) followed closely behind.
And where it isn't…?
The municipalities with the lowest proportion of newlyweds were Övertorneå (0.54%), Härjedalen (0.59%), Haparanda (0.63%), Hällefors (0.63%) and Laxå (0.66%). But that doesn't necessarily mean that romance is dead there. These figures can be affected by the fact that an older age average in a municipality means a greater likelihood that the inhabitants have already found a love partner.
Looking for love potential
For those looking for a valentine, the municipalities with the highest proportion of unmarried (and never previously married) inhabitants are probably a good place to start. Municipalities such as Solna (48.5%), Umeå (48.2%), Östersund (47.8%), Åre (47.8%) and Stockholm (46.9%) have the highest proportion of unmarried people living there.
Among those municipalities with the lowest proportion of unmarried people are Lomma (24.7%), Vellinge (24.8%), Öckerö (26.0%), Höganäs (26.7%) and Staffanstorp (27.9%). But again, behind these figures lies the fact that several (but not all) are suburban municipalities with relatively high housing costs near a larger city, where it's probably easier to move to if you are two in a household.
Is there a love correlation?
It's not true to say that municipalities with the highest number of newlyweds are also where you'll find the most unmarried individuals. In truth, there is no significant relationship between these two variables as the diagram (1) shows.
However, should we want to create an unscientific variant of a ' Valentine Index' (2) then the municipality of Solna stands out as a worthy winner.
Here, love thrives (as indicated by the many newlyweds) and the potential for future love (indicated by the presence of many unmarried individuals) is strong. (Insert Valentine Index map)
And for those of you who don't live in Solna, are not newly married and are still on the lookout for love – invest in the flowers and skip the box of candied hearts!
You can find a longer version of this article, together with more detailed maps and diagrams, by visiting vertikals.se.