New Chief Administrative Officer at the President's Office from 1 March 2020
Jenny Dahlkild will be the new Chief Administrative Officer at the President's Office at Jönköping University (JU) from 1 March.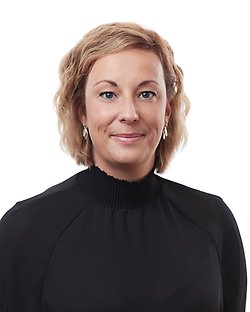 During 2019, Jenny Dahlkild has been Acting CEO of Jönköping University Enterprise, and before that she was Operations Manager at the same company. Jenny has been employed at Jönköping University since 2006, first as a research assistant during the last semester of the master's studies at Jönköping International Business School (JIBS). She has worked in various roles at JU, including Academic Registrar at JIBS and as a business developer at University Services.
The role as Chief Administrative Officer at the President's Office entails overall responsibility for strategic and planning issues that affect the entire university. The Chief Administrative Officer is a member of the Jönköping University Executive team and reports to the President.
"I have had the privilege of working with Jenny during her time as Acting CEO of JUE, a task that Jenny has handled with great skill, commitment and sense of responsibility. With her expertise and experience as well as knowledge of JU's organization, Jenny will be a great asset to JU's management team. I have great confidence in Jenny's ability to lead and develop the overall work at the President's Office in close dialogue with the companies within JU, says Agneta Marell, President at Jönköping University.
"It feels amazing to have the opportunity to develop in a new role here at JU and I look forward to further developing and strengthening the cooperation between the President's Office and the companies at the university. I see it as my mission to provide the best possible support and conditions for the organization to work efficiently and purposefully, and to create a safe and pleasant workplace for my colleagues, says Jenny Dahlkild.
Contact information
Jenny Dahlkild
Email: jenny.dahlkild@ju.se
Telephone: 036-10 17 33 
Agneta Marell, President Jönköping University
Email: agneta.marell@ju.se
Telephone: 036-10 10 01