JU students tutor high school students
Three students studying a Subject teacher master programme at the School of Education and Communication (HLK) at Jönköping University responded to an advertisement from the Sanda high school in Jönköping. It was Carin Rosjö, principal at the high school who advertised for students who wanted to tutor high school students.
The advertisement was the start of a collaboration between the Subject teacher master programme at HLK and the Social Studies programme at Sanda high school.
"The project is a learning opportunity for both our high school students and for the future high school teachers. As far as our organization is concerned, it is valuable to get supervision from teacher students, as we use our school hours for the students during study days. For the teacher students, the assignment to give support is a merit for their upcoming teacher assignments. Having experience from supervising in a high school is positive for a prospective employee", says Carin Rosjö.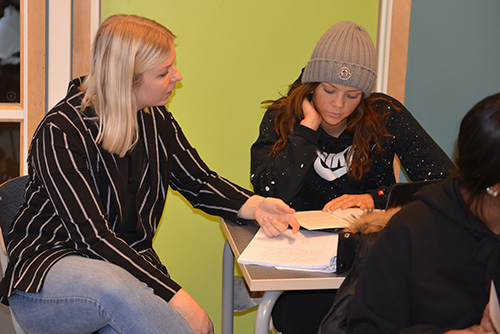 Elin Jans, one of the teacher students from HLK, who is now acting as supervisor support, applied without much hesitation.
"I see it as an opportunity to practice what I learn at HLK. It is important to get out and work in the school while studying, in this way I feel that I´m getting the most out of my studies. It's also fun to get out into the real world and "market" myself, after all, I only have three semesters left until I finish my degree. So far, it has been great and educational, it will be exciting to see how the students work will be shaped by our supervision", says Elin.
The collaboration with Sanda high school lies outside the formal teacher education for the teacher students, however, HLK ensures that the students do not miss important lectures and sees this as a good collaboration that can develop further. Collaboration between university studies and future professional life is an important part of the education at HLK.
Hugo is one of the students at Sanda high school who is supported by the teacher students and he likes the collaboration and the HLK students.
"I think it is good have the HLK teacher students as support. We already know our regular teachers which makes it interesting with a little change. They may think differently and have more modern solutions to our questions and thoughts", says Hugo.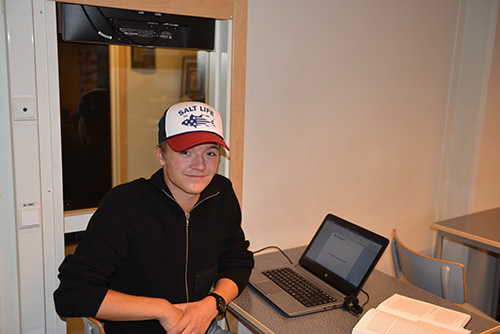 For more information, please contact Weronica Ader, Programme Manager for the Subject teacher master programme;
Phone; +46 (0)36-10 13 72
Email; Weronica.ader@ju.se
Short facts:
* The Subject teacher master programme is five years.
* Teacher students will have two more opportunities this spring to support students at the Sanda high school.
* The Subject teacher master programme contains four periods of training at a school (so called VFU) - three weeks, two periods of five weeks and then seven weeks. (The collaboration with Sanda high school is in addition to VFU.)