Karin Enskär appointed professor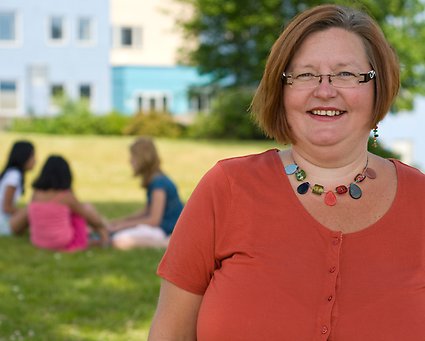 The research environment CHILD at Jönköping University has got a new Professor. Karin Enskär, former Associate Professor in Nursing Science at School of Health Sciences was in the end of September appointed Professor in Nursing Science.
Karin Enskär is Professor at the Department of Nursing Science. The department has undergraduate programmes leading to a BSc in Nursing or a Diploma in Specialist Nursing. Karin Enskär's teaching concerns children's and young people's health, nursing of sick children and research methodology, and she does supervision of papers and dissertations. The Swedish Children's Cancer Foundation has an ongoing project including a new, advanced course of education in Paediatric Oncology Nursing for which she is responsible.
Karin Enskär's doctoral dissertation, presented at Linköping University in 1997, concerned the experience of life situation in children and adolescents with cancer and their families. Her present research mainly concerns different aspects of nursing of children with cancer and their families. She is responsible, together with researchers from the UK, South Africa and Sweden, for the study "Nursing Care of Pain and Pain Management, in Children with Cancer". She is also supervising colleagues and postgraduate students in other studies, such as "Family Participation in the Care of Children with Cancer", "Transcultural Nursing in Swedish Pediatric Oncology Care", "Siblings of Brothers and Sisters with Cancer", "Senses to Reduce Stress and Pain During Medical Procedures for Children", "Risk Factors for Overweight and Obesity in Childhood" and "The Use of the Health Cure as a Preventive Method in Child and Youth Health". Karin Enskär is often engaged as reviewer for pre-reviewed journals and on examination boards and the boards of foundations. Karin Enskär will also work part of her time for Skövde university.