CHILD-conference on Swedish National Television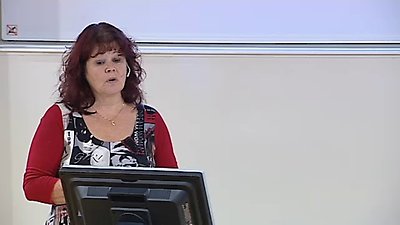 In September CHILD arranged a conference day on Autism Spectrum Disorder. In mid- October the conference is broadcasted on Swedish National Television. You can also view the lectures right here!
Hilde De Clercq

External link, opens in new window. (click on the name/link to view the lecture) is a lecturer, trainer, linguist and author of several books on autism. She is the parent of a son with autism and director of the Opleidingscentrum Autisme in Antwerp, Belgium. Hilde has developed many workshops on subjects such as communication, the cognitive style of people with autism, high functioning autism, Asperger Syndrome, and parent-professional collaboration.
Ann Simmeborn Fleischer

External link, opens in new window. is a PhD-student in Disability Research within the research environment CHILD at Jönköping University. Ann's research is about students with Aspergers syndrome (AS). The purpose of her study is to create new knowledge about how students with AS within higher learning environments experience their daily lives. The study focuses on three students' own stories about the present, the past and the future and creates a foundation to be able to understand how students with AS experience their daily lives.
Theo Peeters

External link, opens in new window. is a Belgian neurolinguist who specialises in autism spectrum disorders. He is one of the world's leading authorities in the field and his many books, training activities and stimulating talks around the world have shown him to be among the most knowledgeable and compassionate authorities on autism anywhere. He especially emphasises the importance of understanding the "culture of autism," of empathising fully with individuals on the spectrum. He is the founder of the Opleidingscentrum Autisme (Centre for Training on Autism or OCA) in Antwerp, Belgium.