PdEAM
The purpose of this research project is to develop a method, tools and best practice for connecting and integrating product IT with enterprise IT.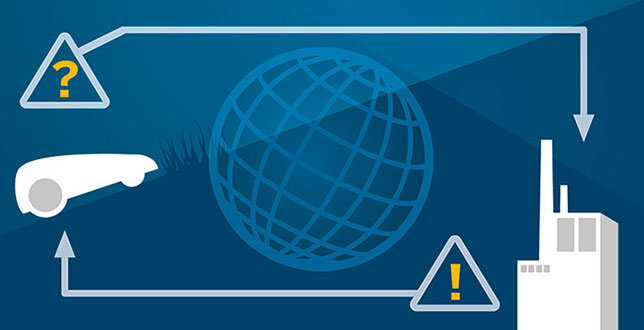 PdEAM: Product driven Enterprise Architecture Management
Projekttid: January 2016 - December 2018
Participating companies: Husqvarna AB, Skye Consulting AB 
The idea of Enterprise Architecture Management (EAM) is to make business structures and IT structures to work together. This is achieved through a coordinated development of the goals, strategies, processes, information etc. of an organization and its IT-systems. Historically, EAM has focused on IT systems supporting business processes, such as production, finance and administration (enterprise IT).
Today's development of different kinds of intelligence embedded in products - so-called product IT - creates completely new business opportunities. By making the product part of the business structure as well as of the IT structure the company may receive information directly from the product, which may be used for developing new services or for improvements of the product. However, this also puts new demands on the company's business models, business processes and so on.
– The challenge of this project therefore is to develop guidelines and support for the development of enterprise architectures where both enterprise IT and product IT are systematically integrated, says Ulf Seigerroth, Associated Professor in informatics and leader of the project.
The research work will start from existing methods and tools within EAM, which will be expanded to include product IT. This way a more product driven EAM - PdEAM - is created. This requires knowledge within areas such as Enterprise architecture (EA), Enterprise architecture management (EAM), Reference models/reference architectures, Embedded systems, Cyber physical systems (CPS), Internet of things (IoT), Method engineering, and IT governance.
By building a collaboration between the university's researchers within these areas and the companies' experienced people within Enterprise Architecture, a unique combination of competences is created in the project.
– By working together we may increase the competitiveness of the companies and provide world-leading competence within Product driven Enterprise Architecture Management to the region, says Ulf Seigerroth.
A lot of work has been done earlier within EAM, but then the focus has been on traditional enterprise supporting architectures. With the new focus on product IT that the project has, it may give completely new and groundbreaking contributions to the scientific research.
Ulf Seigerroth,

Associate Professor Informatics