Digital Occupancy Assessment for Lighting Evaluation
The amount of information on evidence-based design in lighting is mounting, however the facility managers are struggling with an implementation of an efficient post-occupancy evaluation system. This research proposal aims to establish a method for Digital Occupancy Assessment for Lighting Evaluation (DOALE) to strengthen evidence-based lighting research supporting value generation for stakeholders. In the Lighting Design education at the JU School of Engineering facilities, a Lighting Living lab will be instrumented for gathering data concerning lighting qualities, such as intensity, color and light distribution. For the digitalization of this Living lab different technologies will be used, e.g. Internet of Things, utilizing photometry, 3D scanning, and Wifi Positioning Systems. For evaluating the match between the actual and the virtual built environment in terms of lighting values (intensity, color, distribution), human physiological (heart rate, skin conductance and movement), and psychological (aesthetics, restoration, light quality and alertness) measures are recorded in real-time. Questionnaires on perception are also carried out to evaluate the data gathered by the different mobile technologies. The DOALE method is then transferred to a cooperative facility manager (Regionfastigheter Jönköping) for additional value generation to hospitals and healthcare environments in the future.
The main objectives are
to digitalize an existing Lighting Living lab to a virtual building solution at JU School of Engineering
to capture and validate human physiological and psychological reactions in the real and the virtual Lighting Living lab
to prepare the transfer of knowledge on Digital Occupancy Assessment for Lighting Evaluation to a building facility manager with interest in evidence-based lighting design
to involve students in research activities and strengthen their knowledge in digitalization, and
to strengthen the department by creating a closer collaboration between our research in the area of digitalization in construction and the area of light science.
Available master thesis on the topic
Facilitating digital occupancy evaluation by investigating a semantic data structure for BIM-based FM
Evaluation and comparison of photogrammetry methods for enhancing digital occupancy of Lighting Living Lab
A State-of-the-Art and Survey of Indoor Positioning Technologies to Establish Positioning System Based Digital Occupancy Assessment in a Lighting Living Lab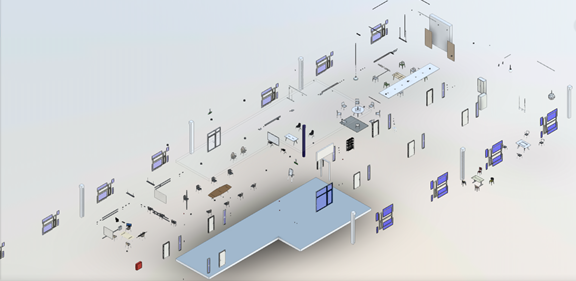 Project team
Project leader: Géza Fischl, PhD
Researchers: Peter Johansson, PhD and Karl Hammar, PhD
Project assistant: Alyaá Tabbah, MSc
Doctoral student (2020-2021): Adyasha Swain, MSc
Contact information
For more information regarding the project, please contact Géza Fischl.