COGNITION
Adapting Cognitive Digital Twins for the Production of Sustainable Modular Houses
The aim of this research to contribute as a sustainable solution for advanced and innovative digitization is twofold:
Adapting a Cognitive Digital Twin platform prototype for the production of timber sustainable modular houses in order to implement them for the analysis, self-learning and optimization of production with a limited human intervention and under a variety of economic and sustainability criteria.
Offering resource-aware, energy-efficient, low-emission, and low-cost production methods.
Construction industry has been regulated recently in Sweden for the purpose of implementing measures for increasing sustainability in the construction projects and also contributing of the circular economy. Swedish towns are struggling with providing sustainable housing that is also affordable. The digital transformation in construction industry could aid that goal, as it provides promising new tools for maintaining sustainability in the production of affordable houses. Within such a digital transformation, Cognitive Digital Twins (CDTs) are introduced as the next level of Semantic Digital Twins towards Construction 4.0, where efficient and sustainable processes are simulated and optimized. CDTs facilitate self-learning from previous project cases and applying new knowledge on the existing data, models, methods in combination with advanced decision support enabling the resolving of previously unknown situations in an efficient way.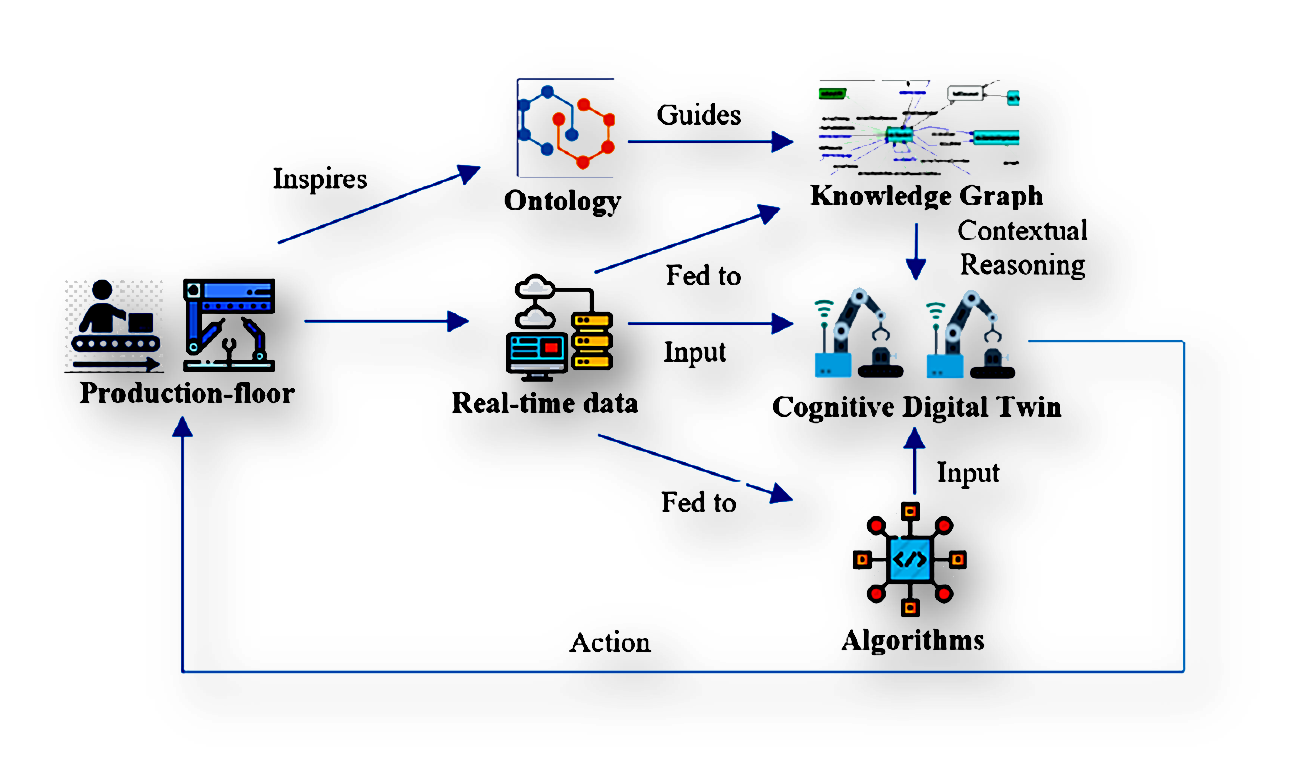 The Project Significance
The project focuses on enabling technologies and capabilities for future digital solutions, involving digitization and integration of sustainable value chains for interconnected systems in the context of modular timber house manufacturing. The project will contribute to sustainable development in the Swedish building industry. The project will develop new knowledge that can promote advanced digitization and thus renew the Swedish building industry. The technical focus areas concerning the project scope, goals, and implementation, are "Model and simulation driven development and optimization, including use of digital twins" and "Autonomous systems (development, optimization and architecture for reliability and collaboration)". The project will increase the use of modeling and simulation in the production phase of sustainable modular houses. CDT models are to be developed with self-learning and along optimization of production, with a limited human intervention and under a variety of economic and sustainability criteria. The adaptation of CDT to shop-floor plants will enhance the automation of production of timber modular houses and deploy model-driven analytics and data-driven services.
The Expected Results
The benefits to be derived from the development of this digital platform (COGNITION) can be better real-time decisions, through the interplay of cognition, analytics and optimization during the production process. This research will provide new knowledge and sustainable technological and ecosystem-based solutions by adapting CDTs for the production of sustainable timber modular houses and offering resource-aware, energy-efficient, low-emission and low-cost methods to contribute to the change adaptation of the built environment. The COGNITION project, which adapts CDTs for the production of sustainable timber modular houses, has the potential to increase resource-use efficiency throughout the value chain of the built asset, reduce resource consumption and CO2 emissions, and contribute to a standardization framework for sustainability in circular economy, considering environmental, economic, and social values.
Academic Partners: Jönköping University, Chalmers University of Technology, Halmstad University
Industrial Partners: Häggmarks Byggmodul AB, Åsbo-Hus AB
Duration of the project: 2023 – 2025
Project manager: Ibrahim Yitmen, Associate Professor
Financier: Vinnova

External link, opens in new window.
For more information
Ibrahim Yitmen, Associate Professor
Tel: 073 910 17 76 |E-mail: ibrahim.yitmen@ju.se