3DSURF

Even though 3D printing technology is growing fast, there are some significant challenges to overcome. The project Surface quality and challenges in 3D printed metals (3DSURF) aims to fill the knowledge gap related to the surface finishing and corrosion resistance of 3D printed materials, to make the technology even more competitive.
3D printing has attracted significant attention due to the market demands for shorter product development cycles, customised products, sustainability and reduced manufacturing cost and energy consumption. Despite all these advantages, 3D printing has some drawbacks such as rough surfaces and porosity that must be solved to extend its application.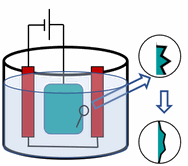 Due to the rapid cooling rates in 3D printing, the material microstructure is different from its cast and wrought counterparts. Anisotropic and non-equilibrium microstructures including metastable phases, un-melted powders, residual stress and metallurgical defects are microstructural features of 3D printed materials. These features impact significantly mechanical and surface properties, such as fatigue and corrosion resistance as well as surface roughness. This project aims to study the corrosion resistance of 3D printed metal and improve the quality of its surface.
3DSURF is expected to clarify the optimised parameters for electropolishing of 3D printed materials which will improve the 3Dprinting industry competence. Moreover, a scientific study on the microstructure of 3D printed material and its impact on corrosion resistance of these materials will be provided.
Project duration and financing


The project runs from 1st of October 2018 to end of December 2019 and is funded by Åforsk Foundation.