ADAPT
Strategies for adaptable design automation systems in the manufacturing industry, ADAPT. The establishment of a design automation system is a significant investment in time and money which is expected to give revenues over many years.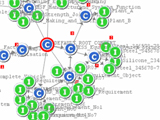 Experience indicates however that significant efforts are required for adapting an established knowledge based system to changes in product technology, new product knowledge, production practices, new customers and so forth. The issue of assuring knowledge base quality for a new system as well as when the system is updated over periods of time, may become critical if appropriate steps have not been taken from the beginning. The focus of this research project is to develop means and strategies to improve today's practice in this respect.
The project will apply and adapt modern, computerised methods to the industrial cases that form the experimental parts of the project, but the central research issues are concerned with developing strategies and methods for knowledge management in relation to generic design automation systems.
Research performed by: School of Engineering
Industrial partners: Sandvik Coromant , Thule, Kongsberg Automotive, Volvo Aero
Project time: 2008-2011
Funded by: The Knowledge Foundation