JIBS students win national thesis competition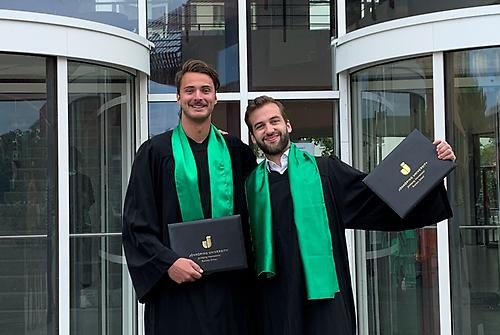 Niklas Koch and Sören Pongratz, both master's graduates from Jönköping International Business School (JIBS), have won first prize in the national Nytt&Nyttig thesis comptetition. The subject of their thesis looked at how esports users helped innovate the Nintendo game 'Super Smash Bros.' The prize winners were announced in a digital ceremony on 28 January 2021.
Niklas Koch and Sören Pongratz, both graduates from the master's programme 'Strategic Entrepreneurship' at JIBS, won a travel grant of SEK 40,000 for their thesis "User entrepreneurship in the esports industry – An exploratory case study of the game series "Super Smash Bros".
Using the popular Nintendo game as a case study, the thesis looks at how those using the product became the driving force in the development of competitive side of Super Smash Bros. Initially launched by Nintendo as a fun family game, passionate gamers found each other online and organised offline tournaments of the game, turning it into a commercialised esport that is now played in tournaments worldwide.
In their motivation for awarding first prize the judges said they were impressed by the way the students had carried out a 'thorough analysis' of their subject and had 'departed from the traditional way of looking at entrepreneurship'.
"When you think about the traditional concept of innovation, people often believe that this only happens in R&D departments of companies or through the efforts of talented individuals. But user entrepreneurship can be about anyone who enjoys spending time with a certain product or service can be innovative," says Sören Pongratz.
Hot topic for industry
According to Niklas Koch and Sören Pongratz, esports is ripe for user entrepreneurship. Gamers are a young and social-media savvy group. They know how to find each other online and get things moving. Other industries are now also beginning to think about how the users of their products could be encouraged to do the same.
"The context of our thesis shows user entrepreneurship in an entertaining way, but it's also super-interesting for existing firms right now. The company I am currently working at is extremely interested in our thesis and want to know more about user entrepreneurship and how they can create similar communities for their products," says Niklas Koch.
"JIBS is one of the top schools"
It is the first time that students from JIBS have won this competition, something that both Niklas Koch and Sören Pongratz feel very proud about.
"We competed with the "big names" of business schools in Sweden – Lund and Gothenberg came runners up in the competition. That we are the first ones to win this for JIBS makes me proud. It proves that JIBS is one of the top schools in Sweden," says Niklas Koch.
The MMTC

External link, opens in new window. centre at JIBS has ongoing research in esports, and with the help of centre members Leona Achtenhagen and Brian McCauley, their thesis was also published as an academic article in the International Journal of Esports.
"We got very good support at JIBS," adds Sören Pongratz, "especially from the research centre MMTC, which is the founder of the Esports Research Network. We had a great supervisor in Mathias Waldkirch who helped us shape our thesis, and without Brian McCauley, who helped us with the topic, introducing us to his esports contacts, this thesis wouldn't have been possible."
Nytt & Nyttigt is an essay competition arranged by the Swedish Entrepreneurship and Small Business institute (ESBRI) and the Swedish innovations agency, Vinnova

External link, opens in new window.. The purpose of the competition is to encourage students at bachelor's and master's level at Swedish universities and colleges to write essays on innovation, commercialization, and utilization.