Bibliometric domain analysis is used, among other things, to describe research focus, field structures and collaboration patterns within specific fields of science and research areas.
Visualization techniques of bibliometric relations can be used in order to generate graphical representations of different positions of authors, institutions etc., and their mutual relationships. By generating a comprehensive picture of the complex structures of formal scholarly communication, a general view of an extensive amount of information can be obtained.
Bibliometric mapping of science, 'science mapping', is comprised by a set of methods to generate an overview or illustrate the development of a given research field. In this context, a research field can be defined, or delimited, by the use of search terms, journals, or some other relevant bibliographic field that will generate, as a result, an amount of publications within the intended research field. Using these publications as a starting-point, an overview of the field can be obtained and sub-fields and their cognitive relations can be presented in a two or three dimensional map. These representations are created in such a way that, for instance, sub-areas, themes or authors similar to each other are found close together in the map. There is a great variety of similarity measures based on bibliographic data, and which of them to apply depends on which aspect is to be analysed. Once the bibliometric map has been created, different aspects of the area can be analyzed: prominent researchers, analyzed units with high impact, and a great number of other characteristics. Below, a couple of illustrative examples are given.
The illustration below is meant to display an overview of Jönköping University's publishing of articles and conference papers in international publishing channels (source: Web of Science). Articles and conference papers with at least one address affiliated with Jönköping University have been downloaded, points of similarities have been operationalised using shared references (bibliographic coupling) and shared word stems (co-word analysis). Cluster analyses have been utilized in order to create homogenous groups regarding their cognitive content. Multidimensional scaling is then applied to visualize this information in two dimensions. The different clusters, their sizes depending on the number of articles included in the study, have been named with the highest ranked journal categories in which the publications were published. The result illustrates elucidatorily which research areas are the most prominent ones in the analyzed material (in a quantitative aspect) and the conditions between the areas. Maps such as these may also be complemented with evaluating features, for example, information regarding the normalized citation values for each cluster respectively.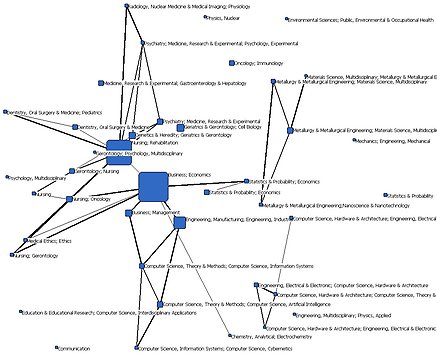 Bibliometric mapping is not the same as the creation of maps in the traditional sense. For instance, we may complement the illustration above with information on the production over time. However, the seemingly trivial production count, demands clarifying several issues, such as a correct harmonization of variants of addresses, or if differences in production is a result of a factual increase or decrease of publications or changes in database coverage etc.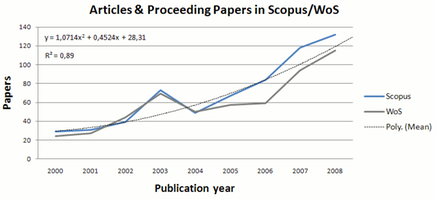 If we want to study the intellectual base of a research area, we can do this by identifying influential researchers (regarding the number of publications and citations) and calculate the similarities between them in regards to how frequently they are cited together with other articles (so-called cocitation analysis). These similarity values can then be used as input data to a suitable clustering algorithm. Below, this methodology has been applied to the discipline "Library and Information Science", as defined by Web of Science: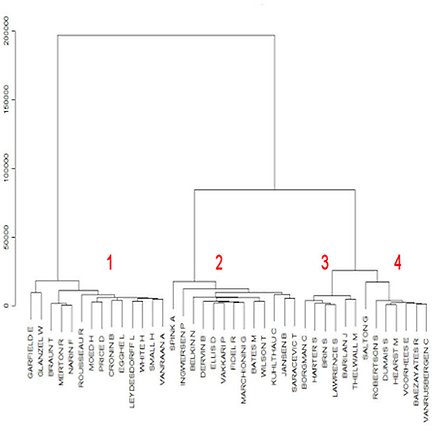 We can identify four clusters, or sub-areas, and some of the leading researchers within these areas: 1) bibliometrics/scientific communication 2) user-oriented information retrieval 3) webometrics/hypertext-IR and 4) system-oriented information retrieval.
If we are interested in one of the clusters above we can analyze the subject area of that specific cluster. For example, we may map sub-area 1 (cluster 1). Firstly, we can try to identify what themes are treated and which the prominent publications among these are. By creating a subset of all articles within the area in question and study which of the publications occur most frequently in the reference lists, and to what extent they are co-cited, we can create an overview like this: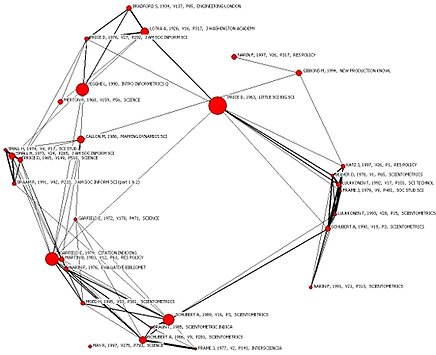 The monography by Derek J. DeSolla Price, a classic within the field that deals with quantitative studies of science, occupies the central position in the visualization. As for the other clusters we find groups of publications that deal with specific areas: at the top of the map we find mathematical modeling, and if we follow the map counter-clockwise the different clusters show the mapping of science, evaluation by citation analysis, studies of collaboration patterns, and the interaction between science and industry.
In a final example we are interested in how the publishing within the research front of a particular field looks like, with regards to the themes treated above. We now want to map the latest published works within the area and their relations. In order to calculate similarities, we can use the subject words that are assigned to each article. The production within a specific theme corresponds with the size of the clusters: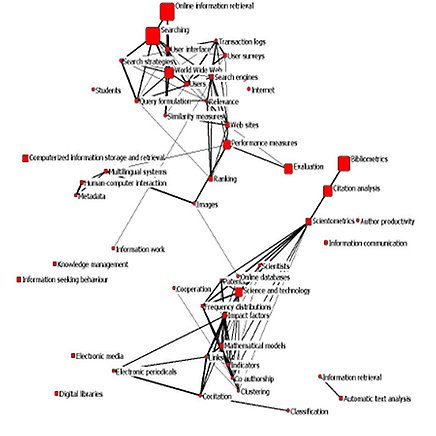 One should keep in mind that these are only a few examples of what is possible to create with bibliometric methods for the mapping of science with the use of bibliographic data. Methods and data are always connected with the question at hand. What is not shown here, but that is often of interest, are changes over time or institutions with great impact and their internal relations.