Welcome to Let's move with Erasmus on Thursday October 10th starting from 09:30 in the entrance at JTH.
The Erasmus will be celebrated all over Europe.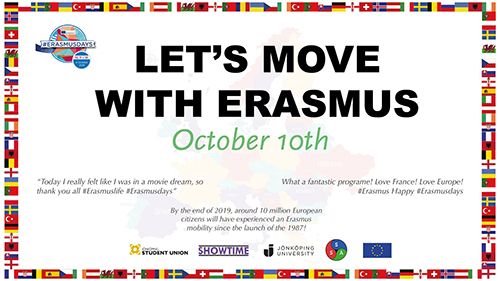 Welcome to the entrance at JTH to join us and listen to interesting life-changing experiences from students at staff!
09:30- Opening and celebration with International FIKA
09:40-09:50 Presentation 1 -Staff Mobility
09:50-10:00 Presentation 2- Incoming exchange
10:15-10:30 Presentation 3- Outgoing exchange
11:00-11:30 Show Time and warming up (outside JTH entrance)
11:30 Run or walk around Munksjön.
If you are running or walking around the lake you have to register, do it here.
You don´t have to register if youre only attending the fika and presentations.
You can give a voluntary donation to the Students for Sustainable Action (SSA). The donation will go to support education for children with disadvantaged backgrounds.
You can swish your donation to 123 515 0719 and write SSA ERASMUS.
All money raised at the event will be donated to the charity organization AnkarStiftelsen.
Here you can see where in the world Erasmus Days are celebrated.
The event is organized by International Office and Student Union
Welcome