JIBS Entrepreneurship Challenge 2020
Calling all entrepreneurs! Do you want to compete for a prize pool of 130,000 SEK? If so, then team up and take part in this year's entrepreneurship challenge.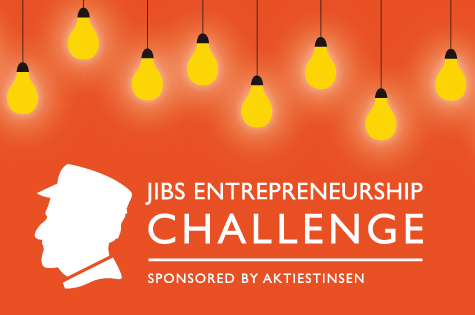 The JIBS Entrepreneurship Challenge will be held from 30th March to the 1st April. It's an innovation race based on a real-life business case. This year, the challenge concerns opportunities in an industry under strong pressure to re-invent itself, but the case itself will not be revealed until 30th March (the first day of the challenge).
During 24 hours, the participating teams will work to produce the most creative and inspiring solution to the case, which they will finally present to a jury made up of industry experts, business people and school representatives.
The best solution to the case will be rewarded with 60,000 SEK, the second prize is 40,000 SEK and the third prize is 20,000 SEK. On top of that, the team that performs the best pitch will win 10,000 SEK.
If you want to be a part of this, you can apply to participate in teams of maximum four students from JIBS, JTH or HLK. The teams must include at least one student from JTH and at least one student from JIBS. A maximum of 15 teams will be chosen to compete in this year's challenge.
Important dates
2nd March
15.00-16.00 - Lecture given in JU Aula (HLK) by Joachim Lindström, CEO, Ideal of Sweden. No registration needed. Open to all JU students.
17.00 - Entrepreneurship Challenge Pre-Mingle at La Vue

restaurant. Come and hear more about this year's challenge and team up with other students. Register here

.
3rd March
Registration opens for JIBS Entrepreneurship Challenge 2020 at 09.00. Register here

.
16th March
Registraion for JIBS Entrepreneurship Challenge 2020 closes at 23:59.
30th March
JIBS Entrepreneurship Challenge begins!
If you miss a spot at the pre-mingle, then you can form your own team by visiting this this page

.
More information about the challenge and how to apply can be found here.

Any questions, please contact entrepreneurship.jsa@js.ju.se.