JU students present smart, sustainable solutions for the challenges of the future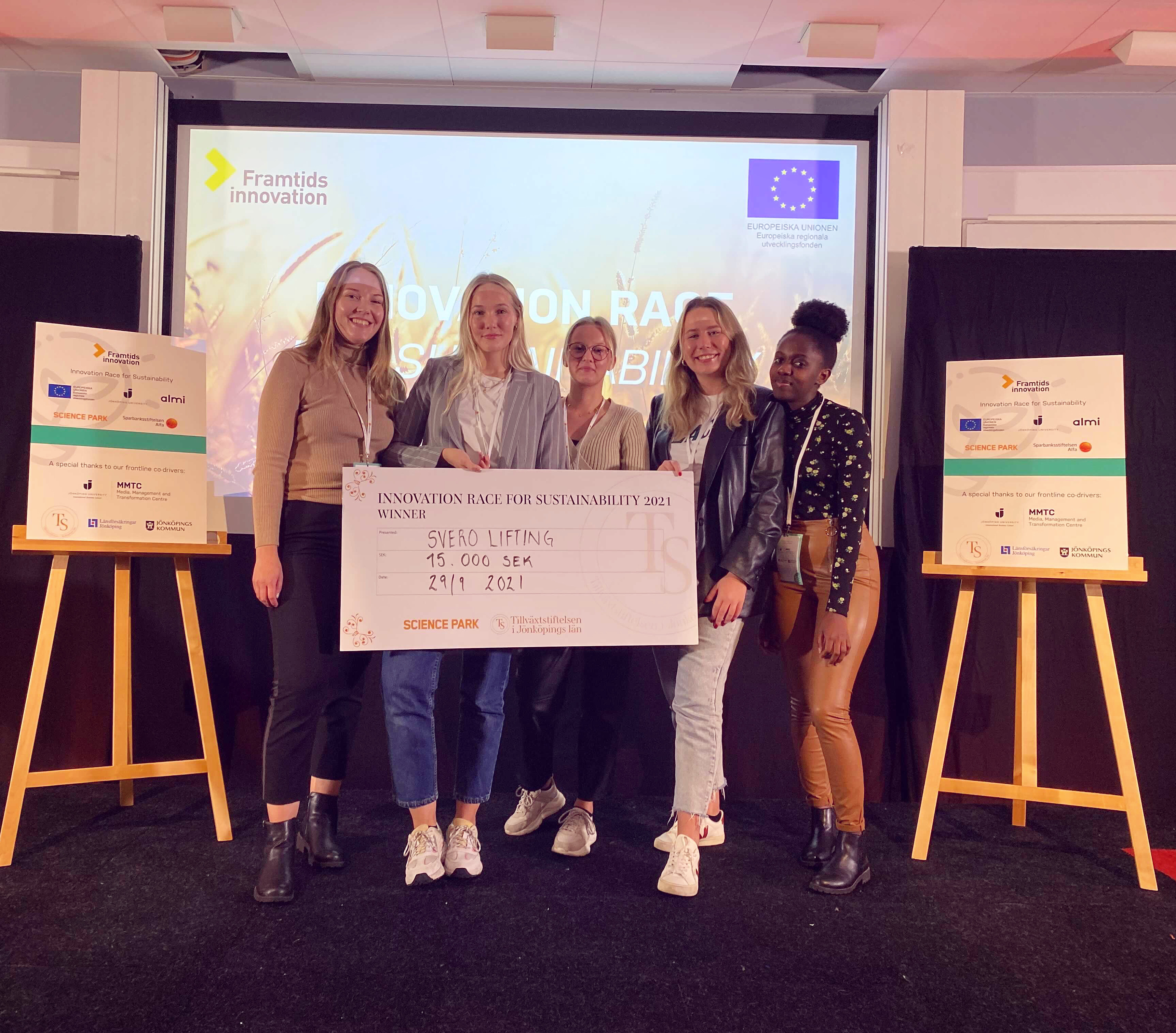 On September 27-29, the annual student competition Innovation Race for Sustainability took place. The competition gathered 169 students from JIBS with the aim of generating new, sustainable solutions for some of the county's established companies. The challenge resulted in sharp concepts that will help companies meet the challenges of the future – sustainably and successfully.
Innovation Race for Sustainability was organized as part of Jönköping University's Sustainability week and is a collaboration between Science Park, ALMI and Jönköping University. Starting at 09:30 in the morning last Wednesday, the students had 24 hours to solve a real-life sustainability challenge from a selection of seven companies. The event became an innovative hub where students, businesses and business developers met.
This year, more companies than ever before wanted to participate in the Innovation Race.
"It's really encouraging. The great interest in the race shows that the county's small and medium-sized companies have started to take notice of sustainable development and innovation," says Lars Birging, business developer at Science Park.
Circular rental – a winning concept
The students were divided into 36 competing groups with a mission to solve one of the seven challenges provided by the seven companies. The prize pool consisted of 15,000 SEK and a copy of the well-known book "Exponential climate change". After tough deliberation by the jury, consisting of representatives from Jönköping University, Knowit, Husqvarna and Science Park, the winners were crowned. This year, Sustainable Enterprise Development students Malin Dahlström, Hanna Lundgren, Rebecka Markinger and Julia Redgård received first prize for a creative concept for SVERO Lifting AB.
The challenge given by SVERO was: "How can a digital platform support new sustainable business models, which increase the use of SVERO's products?" Malin, Hanna, Rebecca and Julia presented a new concept that looked at shared economy and rental of SVERO's products. A solution whereby the products, which are already of good quality and have a long service life, can be used to their full potential by multiple customers, instead of standing unused for long periods.
"The 24 hours were challenging yet very fun and educative. It was also great receiving the confirmation from the judges and knowing that our hard work had paid off. We were lucky to get an inspiring and interesting case from SVERO Lifting AB", says Malin Dahlström from the winning team.
Jury motivation:
"The students have really familiarized themselves with Svero Lifting's products and offerings and show how a company with a strong brand with products of high quality and long service life can use this to offer its customers the same value, but in a more sustainable solution based on a circular economy. It is a good example of advanced and safety-critical products, where the manufacturer needs to be an integral part of a sharing economy to create an even stronger value proposition for its customers."
Participating companies
SVERO Lifting
Circular Centre
Marker Square
Swegon
Science Park
Ömangruppen
Recaremed