MMTC Thesis Award Winners 2019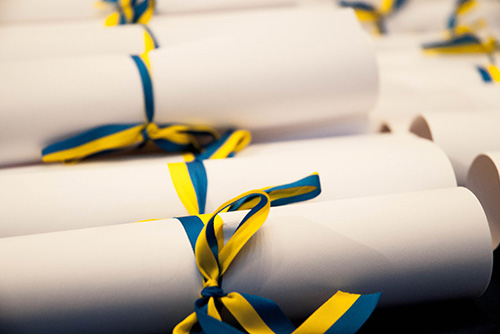 The Media, Management and Transformation Centre (MMTC) is proud to announce the winners of the JIBS/MMTC Thesis Award 2019.
The MMTC thesis award competition has once again received numerous excellent submissions.
Earlier in Spring, MMTC put out the call for thesis submissions addressing topics related to the fundamental renewal of businesses and/or their industries and markets. Of particular interest for the 2019 competition was research on digitalization, sustainability, internationalization, and transformation. The judging panel at MMTC have now carefully selected 8 co-authors and 4 theses as the winning theses. The winners have been awarded a monetary prize (scholarship), a certificate, and the opportunity to develop their study into a publishable journal article together with one of MMTC's scholars. The findings of the winning theses will also be shared on the JU platform Vertikals.se and the MMTC web-page.
Congratulations to the winning thesis and awarded authors.
Micaela Johansson and Elisa Kromer have been awarded SEK 15 000 for their winning thesis entitled "The influence of digital servitization on value co-creation in the industrial manufacturing sector."
Philipp Feise and Paul von Hatzfeldt have been awarded SEK 10 000 for their thesis entitled "The Effects of Digitalization on Managing Project Teams."
Peter Leonhard and Marius Stolz have been awarded SEK 10 000 for their thesis entitled "Business Model Innovation in SMEs: How Resource Scarcity Affects Conditions for Business Model Innovation."
Marina Hafner and Katharina Malmström have been awarded SEK 10 000 for their thesis entitled "Digitalization of Intralogistics: The Impact on Firms' Sustainability."
JIBS and MMTC are grateful to all contributors to the competition and congratulate the awarded authors!