SIRU 2.0 Case: Greyston Bakery

"We don't hire people to bake brownies. We bake brownies to hire people"
Founded in 1982 by Zen Buddhist Bernie Glassman, Greyston bakery (GB) pioneered the 'Open Hiring' movement. GB was created to employ individuals who faced barriers to meaningful employment. The hiring process was simple, accept anyone with a will to work - this became a process known as Open Hiring ® in which no interviews, background checks or resumes are required in order to get a job. Recognizing that employment is a first step toward self-sufficiency, Greyston quickly expanded into several social and community service areas.
In 1992, Greyston Foundation was created to further address barriers to employment. The foundation manages Greyston Baker, a B-Corp with a triple bottom line to people, planet and profit. The profit generated through the bakery is reinvested into the bakery as well as into development programs for Greyston's open Hire bakers and other community members facing barriers to employment.
Key dates
1987: GB partnered with Ben & Jerry's icecream to create Chocolate Fudge Brownie Ice Cream.
1992: Greyston Foundation was created to address barriers to employment.
2004: GB expanded into a 21,000 sf Leadership in Energy and Environmental Design (LEED) certified bakery in the Southwest Yonkers community
2008: GB was officially registered as B-Corp (more info below) and launched Workforce Development programs for those considered unemployable or hard-to-employ.
2013: Greyston Bakery was rated best for the World B-Corp, a designation given to the top B corps worldwide.
2016: Greystone joins 19 companies from across the US as founding pledge takers of the Fair Chance Business Pledge.
2021: Greyston announces a new mission and 10-year vision, doubling down on inclusive hiring and eliminating barriers to employment via the Greyston Employment Opportunity Center.

External link, opens in new window.

2023: Greyston receives Social Innovator of the Year award from Schwab Foundation for Social Entrepreneurship

External link, opens in new window.

at World Economic Forum in Davos.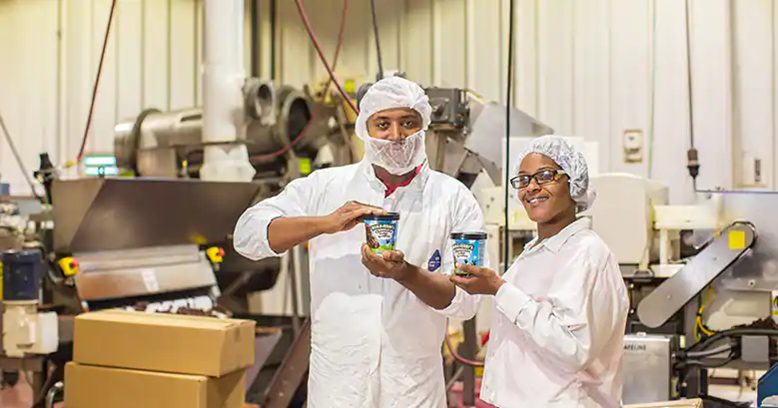 What they do:
Greyston Bakery is a purpose-driven for-profit commercial bakery specializing in brownies. It is a social enterprise aiming to assist vulnerable groups in society, such as refugees and the homeless, by providing employment opportunities through recruitment processes that are not based on background or CV criteria.
How do they do it:
As part of Greyston Bakery's mission to create inclusive employment opportunities, the social enterprise offers some training programs for people in need, such as:
Workforce development programs: vocational training courses with final certifications in subjects such as IT, business, construction, health, hospitality, and security.
Youth programs: available to young people between the ages of 14 and 24. The objective of the programs is to foster personal and professional growth and create the conditions for vulnerable young people to enter the labour market.
The process:

Notable Achievements - 2020
$11.2 million in overall positive economic impact in their local community, including over $4,5 million in public savings.
1,350 new jobs realized through open hiring with partner corporations such as The Body Shop, Rhino Foods and Giant Eagle.
Empowered 116 trainees through Greyston Workforce Development program. WD clients earned an average of 24% above minimum wage after Greyston training.
12 million pounds of brownies
Successful fundraising virtual event and new relationship with Chef Jeff

B Corp Certified
Greyston Bakery is a certified B Corp company.
They have been rated "Best for the World" by B Lab every year since 2013, a recognition given to the top 5% of B Corps worldwide. The B Corp model provides best-in-class standards and processes that help companies stay on track with their social and environmental goals.
WHAT IS A B CORP?
A B Corp is a company focused on using the power of business as a force for social, environmental, and economic good. Certification comes from a thorough evaluation by B Lab. Read more via this link

External link, opens in new window.