CeFEO Affiliated Professor
Professor Emerita of Strategy and Organization 
Jönköping International Business School

Mona Ericson is Professor Emerita of Strategy and Organization at Jönköping International Business School and CeFEO Affiliated Professor. Her research projects direct attention to merger & acquisition, service management, strategic change, business growth, identity and family business. Drawing inspiration from works on philosophical hermeneutics and hermeneutic phenomenology she adopts theoretical approaches that enclose an existential dimension and highlight aspects of temporal relationships in human activity. Mona is the author of eight research monographs and is currently working on the ninth monograph with a focus on family business as activities, interwoven with space and place materials.

Biography
Mona Ericson, born in 1948, has studied classical piano as private student of Professor Stig Ribbing at Royal Academy of Music in Stockholm, participated in courses in pedagogy and computer science and offered courses in Swedish for immigrants. After receiving her BSc in Business Administration at Linköping University in 1977, she worked at Pkbanken (name changed in 2001 to Nordea) for eight years and then at Karlstad University (1984-2001) and Jönköping International Business School (2001–2015). She has many years of experience from teaching courses in organization, strategic change and advanced research methods and from involvement in academic managerial activities; Deputy Head of the Department of Business Administration (1993–1995) and Pro-vice Chancellor (1995-1997) at Karlstad University; Programme Director (2010–2013) for all Bachelor programmes, the Civilekonom and the Marketing Management programme at Jönköping International Business School. Mona earned her doctoral degree from Stockholm School of Economics in 1991, where she also obtained her Associate Professor degree. In 2010 Mona Ericsson hold her inaugural Lecture as a full professor at Jönköping International Business School.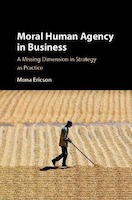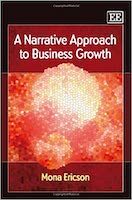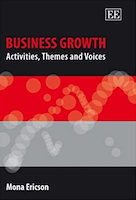 Ericson, M. M. (2018). Moral Human Agency in Business: A Missing Dimension in Strategy as Practice. Cambridge University Press.
Ericson, M. (2010). A narrative approach to business growth. Edward Elgar Publishing.
Ericson, M. (2007). Business growth: Activities, themes and voices. Edward Elgar Publishing.