International Economics
Bachelor of Science in Business and Economics with a major in Economics, 180 credits


Start date: August 23, 2021


Internship
Companies, governments and other public organisations throughout the world need people educated in economics, statistics and business to help them analyse problems and develop smart solutions. If you are looking for a well-rounded business degree, the International Economics programme is the one for you.
Special selection
Jönköping International Business School has decided to reserve a small number of places on their programmes to applicants who are particularly suitable for the education as well as the school's profile. The aim is to widen the admission opportunities for the candidates.







General entry requirements include high school diploma; with specific demand on mathematics, civic/social studies, and English proficiency. Read more about our English Requirements.
Read more about our Admissions Requirements.
The number of places is limited and a selection is made based on high-school diploma GPA and letter of motivation.

(Special Selection: We reserve a limited number of extra seats within this bachelor programme for applicants who are considered particularly suited to the education and JIBS' profile. Read more.)

Degree of Bachelor of Science in Business and Economics with a major in Economics


SEK 100,000 per year
Tuition fees do NOT apply for EU/EEA citizens or exchange students
NB - preliminary list of courses
Year 1
Entrepreneurship 7.5 credits
Introduction to Economic Thought 7.5 credits
Basic Financial Accounting 7.5 credits
Microeconomic Principles and Mathematics for Economics 7.5 credits
International Trade Theory 7.5 credits
Macroeconomic Principles 7.5 credits
International Macroeconomics and Finance 7.5 credits
Organising and Leading in a Sustainable World 7.5 credits
Year 2
Business Statistics 1 7.5 credits
Intermediate Microeconomics and Mathematical Economics 7.5 credits
Business Statistics 2 7.5 credits
Intermediate Macroeconomic Theory 7.5 credits
Econometrics 1 7.5 credits
Industrial Organisation 7.5 credits
Corporate Finance 1 7.5 credits
Econometrics 2 7.5 credits

Year 3
Study Abroad/Elective courses/Internship+Elective courses 30 credits
Geographical Economics 7.5 credits
Development Economics 7.5 credits
Bachelor's Thesis in Economics 15 credits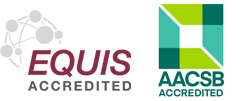 Pathway Programme
If you don't fulfil our language requirements,  you can enter our Pathway Programme, designed to strengthen your English and academic skills. Read more.