We are proud to announce the winners of JIBS Entrepreneurship Challenge 2014.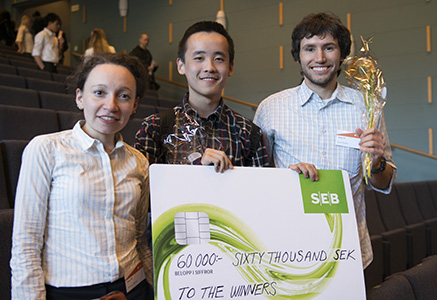 Team number 10, consisting of Monica Navarro, Chen Sun, and Jacob Mueller. Chen comes from China and studies International Management at JIBS. Jacob comes from Germany and Monica from Colombia, and they both study Production Development and Management at JTH.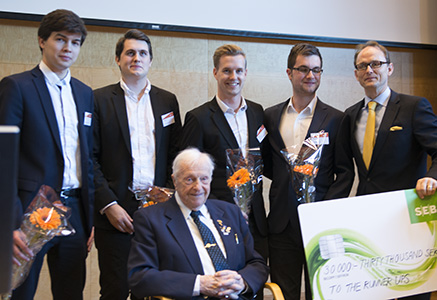 The two runner ups, in no particular order, were Team number 4, with Sebastian Andersen, Lukas Charitonovas, Viktor Lorentzon and Nadim Kuttab, and Team number 13, with Petra Vretenar, Manolis Vlachos, Jasenko Arsenovic and Georgios Tsakos.
In these pictures are also Lennart "Aktiestinsen" Israelsson, who donated the money for the foundation sponsoring this competition, and Johan Roos, Dean and Managing Director of JIBS.

We want to congratulate all participants for doing a great job!