Students were challenged in technology and entrepreneurship
What is the next step within the Internet of Things-technology and how can ISN sensors be used in new ways? That was the challenge 55 students faced during the week when they took part in JIBS Entrepreneurship Challenge.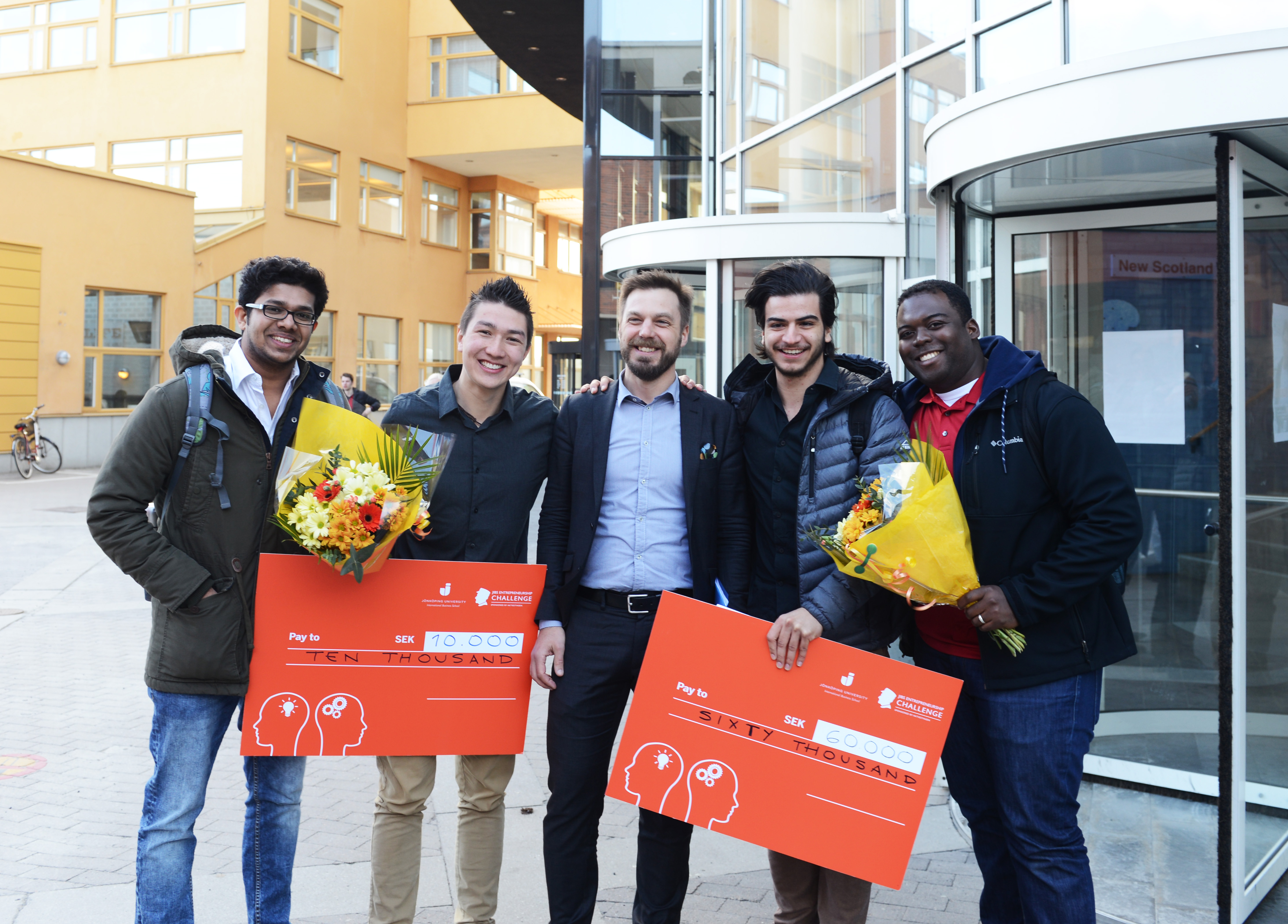 This year CombiQ, a consultancy company that develops Internet of Things-technology, were behind the challenge. They plan to develop their own product and saw the participation of JIBS Entrepreneurship Challenge as an interesting opportunity to develop themselves.
"It was exciting to be a part of this, and many of the teams came up with interesting solutions we haven't thought of" says Daniel Power, CEO of CombiQ.
This year's challenge was about discovering new entrepreneurial possibilities for ISN (a wireless sensor that can be used to, for example, monitor and diagnose production material). CombiQ presented their company and the challenge to the 15 chosen teams during Monday 3 April. After that, the teams got 24 hours to come up with an idea and prepare a presentation to pitch it. Based on the ideas a jury selected five of the teams who got to continue in the competition, and present their ideas in front of an audience.
Wednesday 5 April, it was time for the grand finale. There was tension in the air when the five chosen teams were presented. The jury, comprising representatives from CombiQ, Science Park, Jönköping International Business School(JIBS) and JIBS Student Association, ultimately appointed a winning team.
The winning team consisted of two students from School of Engineering and two students from Jönköping International Business School: Patricio Garibay, Brandon Fong, Kafui Quashie and Amaresh Ashok. The jury praised them particularly for their inspiring presentation and creative ways of solving the problem.
"It was inspiring, frustrating, exciting and challenging to participate in the competition. It's been little sleep combined with a lot of adrenaline" says the winners after the finale.
The winning team's suggestion was a new way to use ISN sensors for the aquaculture industry. Briefly, their solution meant to minimize the risk of bad fish and burst pipes, which benefits both the fish farmer and the environment.
"We think we won because our solution was something CombiQ didn't expect, but it is still a possible step for them to take in the near future" says the winners.
The jury explained that it this year was particularly difficult to pick the winners, because the teams presented as different solutions. The solutions and ideas concerned everything from reduced stress for nurses to an easier way for farmers to know how their animals are feeling. The winners were awarded with a total of 70 000 Swedish crowns and a trip to a "start-up hot spot" in one of the capitals in Europe. The team who came in second and third place got 30 000 and 20 000 Swedish crowns. The prize money comes from a fund consisting of shares donated by Lennart "Aktiestinsen" Israelsson.
"Everyone participating in the competition are winners. They took risks and identified new possibilities. The effort they put in hopefully planted a seed in their entrepreneurial minds that they carry with them in the future" says Jerker Moodysson, Dean of JIBS.
About Internet of Things:
Internet of Things is a collective term for the development of physical devices, vehicles, buildings, and other items, embedded with small built-in sensors and computers.