Strategic Entrepreneurship
Master of Science (120 credits) with a major in Business Administration



Start date: August 23, 2021


Internship
Strategic Entrepreneurship is a programme that helps you improve your entrepreneurial effectiveness, both in creating and launching new startups, and in identifying and developing opportunities within existing organisations.
The programme will provide you with specialised master's level competencies in business administration with a focus on venture creation and venture management as well as business renewal.
The education is designed using state-of-the-art research and offers practical experiences. You will have the opportunity to get acquainted with the Swedish business landscape and develop your own venture ideas in close collaboration with Jönköping's Science Park.
All courses are given in English. The programme is open to students from around the world, and courses have a diverse international participation of students. This international atmosphere contributes to a broad perspective of the issues discussed in class.
Elective semester
The autumn semester of the second year offers plenty of options to specialise your degree. Either by studying abroad at one of JIBS' recommended partner schools, or by taking elective courses of your choice at JIBS, which also allows you to do an internship in another country.
Degree
2 years, 120 credits. Master of Science with a major in Business Administration.
After graduation
You will gain specialised master level competencies in business administration with a focus on venture creation and venture management as well as business renewal.
A wide range of career opportunities await you after graduation, including: business owner/manager, entrepreneur, business developer, project leader or change manager.
The programme also prepares stu­dents for doctoral research education.

Credits:
120 credits

Level:
Master

Rate of study:
Full-time

City:
Jönköping

Place of study:
Campus-based

Language:
English

Start date:
Autumn 2021

Application code:
HJ-MU106

Requirements:
The applicant must hold the minimum of a Bachelor's degree (i.e the equivalent of 180 ECTS credits at an accredited university) with at least 90 ECTS credits in one (or a combination) of the following areas: business administration, economics, industrial engineering and management, or equivalent. At least 60 ECTS credits must be in business administration. Proof of English proficiency is required.
Read more about our Admissions Requirements.

Degree:
Degree of Master of Science (120 credits) with a major in Business Administration

Tuition fee for the first semester:
60000 SEK
Total tuition fee:
240000 SEK
Tuition fees do NOT apply for EU/EEA citizens or exchange students
NB Preliminary list of courses
Year 1
Entrepreneurial Growth 7.5 credits
Entrepreneuring; Person and Process 7.5 credits
Advanced Research Methods in Entrepreneurship 7.5 credits
Creating a New Venture 7.5 credits
Applied International Marketing 7.5 credits
Corporate Entrepreneurship and Strategic Renewal 7.5 credits
Entrepreneurial Finance 7.5 credits
Family Business Development 7.5 credits

Year 2
Studying Abroad/Elective courses/Internship+Elective courses 30 credits
Master's Thesis in Business Administration 30 credits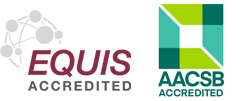 Pathway Programme
If you don't fulfil our language requirements,  you can enter our Pathway Programme, designed to strengthen your English and academic skills. Read more.