Primo Picture Puzzle Contest
Familiarize yourself with Primo and solve our picture puzzles for a chance to win cinema tickets! One new chance each day from Monday 3/9 to Friday 7/9. One winner for each picture puzzle will be randomly selected from all the correct answers. Each winner receives two cinema tickets. The contest closes Friday at 3 pm.
The picture puzzle competition is open to students and staff at Jönköping University. Winners will be announced at our web page, Facebook and Twitter.
To enter the prize draw, solve the Primo picture puzzle and use the clue to perform a search in Primo. The facets may prove to be of great value.
The post we're looking for has been tagged in accordance with the image below.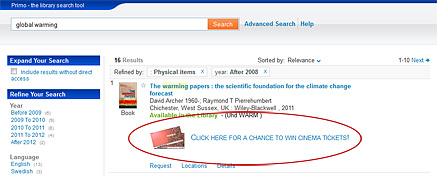 Picture puzzle of the day
We're looking for a book written by the following author: