Shakila Dada
Professor Shakila Dada is a professor in the Centre for Augmentative and Alternative Communication (CAAC) in the Faculty of Humanities and was recently appointed as the Director of the Centre.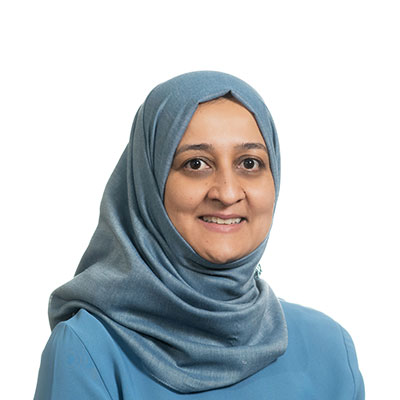 With her research, she seeks to systemically describe, understand, and address the communication and participation patterns of persons with complex communication needs. Her particular focus is on how graphic symbol-based augmentative and alternative communication (AAC) systems can be used to facilitate language learning for individuals with complex communication needs to facilitate their participation in society. She is also interested in extending the application of AAC to the field of Early Childhood intervention and marginalized populations.
She has adopted a systems approach to her research. At the microsystem level, her research has addressed the iconicity of graphic symbols, characteristics of graphic symbol based AAC systems, and the effect of aided input strategies designed to facilitate language learning in both children with developmental disabilities and adults with aphasia. Her research also investigates the mesosystems of persons with complex communication needs by focusing on the perspectives of communication partners, family members, teachers, and health care professionals regarding the implementation of AAC. At the macro-system level, her research is concerned with the practices policies relating to AAC systems and the availability and acceptability of those systems to individuals with complex communication needs.