International Financial Analysis
Degree of Master of Science (60 credits) with a major in Business Administration


Start date: August 23, 2021

Deepen your knowledge of financial markets and financial analysis in a unique environment.
The operation of financial markets is one of the most complex topics of study due to what underlies them: interactions among human beings, with all of their conceptions and misconceptions about the reactions of other human beings.
This one-year programme provides you with the theoretical background and the advanced mathematical and empirical tools required in advanced financial ana­lysis.
The programme aims to provide stu­dents with advanced analytical skills suita­ble to support the financial operations of firms and financial institutions in general. The curriculum is especially designed to match the requirements faced by companies operating in international markets, taking into account the need for continuous renewal and the constant development of the business environment.
To gain valuable career insights, the courses incorporate practical examples and guest speakers working in finance as well as study visits to relevant organisations.
All courses in the programme are given in English. Due to the fact that JIBS has an exchange programme including about 180 partner universities, and that the pro­gramme is open to students from around the world, the courses have a diverse international participation of students. This international atmosphere contribu­tes to a broad perspective of the issues discussed in class.
This programme is supported by faculty with substantial experience of dealing with financial markets and strong research records in methods required for financial analysis. JIBS has very active research in the fields of international finance, financial economics and statistics, corporate governance, and time series econometrics, with a considerable num­ber of publications within these areas in internationally-renown refereed journals.
Evgenia, student, tells us more about the programme
Degree
1 year, 60 credits. Master of Science with a major in Business Administration.

After graduation
This education prepares students for positions demanding advanced analytical skills in financial economics and statistics. Such positions are mainly found in the financial sectors, but are also found in other parts of private and public sectors around the world.
The programme also prepares students for doctoral research education.

Credits:
60 credits

Level:
Master

Rate of study:
Full-time

City:
Jönköping

Place of study:
Campus-based

Language:
English

Start date:
Autumn 2021

Application code:
HJ-MU104

Requirements:
The applicant must hold the minimum of a Bachelor's degree (i.e. the equivalent of 180 ECTS credits at an accredited university) with at least 90 ECTS credits in one (or a combination) of the following areas: business administration, economics, computer engineering, industrial engineering and management, or equivalent. At least 60 ECTS credits must be in business administration and 10 ECTS credits in statistics, mathematics or econometrics or the equivalent. Proof of English proficiency is required.
Read more about our Admissions Requirements.

Degree:
Degree of Master of Science (60 credits) with a major in Business Administration

Tuition fee for the first semester:
60000 SEK
Total tuition fee:
120000 SEK
Tuition fees do NOT apply for EU/EEA citizens or exchange students
NB Preliminary list of courses
Year 1 Autumn
International Portfolio Management and Investment Analysis 7.5 credits
Microeconomic Foundations of Economic and Financial Analysis 7.5 credits
Advanced Security Markets and Financial Contracts 7.5 credits
Advanced Topics in Finance 7.5 credits
Analytical Methods for Economic and Financial Analysis 7.5 credits
Derivatives Securities 7.5 credits
Master Thesis in Business Administration 15 credits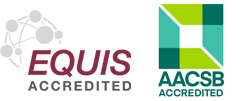 Pathway Programme
If you don't fulfil our language requirements,  you can enter our Pathway Programme, designed to strengthen your English and academic skills. Read more.