Smart Illumination in Living Environment (SMILE)
Designing a protocol to operate lighting products in a residential setting is a challenge. This protocol includes a timely control of the light levels, color temperature, or even colors.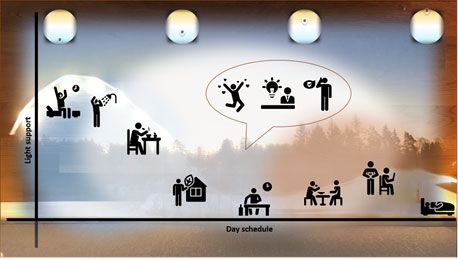 The technology is advanced, but optimal use requires optimization of user requirements, health and safety regulations, and energy minimization. User-friendly and energy-optimized smart lighting strategies are developed based on literature research, stakeholder inquiries, and field studies.
In an apartment building in Jönköping several households are asked to experience and assess smart lighting strategies while their energy use is monitored.
The outcome of the five-year project will present validated operation protocols as well as demonstrate the contribution a transition to smart lighting systems can make regarding energy-efficient and functional lighting at home.
Project team
Collaboration partners
Willhem AB
Jönköping Energi
Project duration and funding
The project started in November 2017 and will run for five years. It is funded by the Swedish Energy Agency. The project is executed as a doctoral study within the School of Engineering's Machine Design research program.
Contact information
For more information regarding the project, please contact Myriam Aries.