Do you need someone to talk to?
In order to feel good as a human being, a balance between external and internal demands is needed. As these demands increase, from e.g. school, loved ones and not least from oneself, the importance of listening inward also increases - How do I find an inner calm when it feels like the world is spinning around me?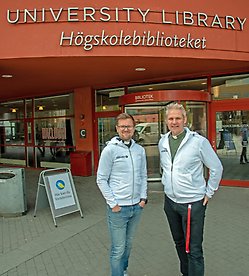 Zoom image
We at the Chaplaincy believe that one way to find balance is to talk to someone. We have professional secrecy and are happy to listen to you. The best way to reach us is by e-mail (see details below) in which we decide whether we will meet via video link or on campus at Jönköping University.
You are welcome no matter who you are or what your beliefs are.
The Chaplaincy's purpose is to help the JU students that want to reflect on spirituality, existential health and social sustainability, in accordance with the European Convention, in particular § 9 on Religious Freedom and the law on Religious Freedom. Chaplaincy is part of the University Church of Sweden. https://www.universitetskyrkan.se
Contact
John Ahlström - john.ahlstrom@ju.se
Mattias Nystrand - mattias.nystrand@ju.se