Science Park believes that anyone who has a dream of starting a business should have the opportunity to do so. Starting a business is educational, fun and not as difficult as you might think. Plus – Science Park will be your coach and give you the practical assistance needed throughout the journey.
Whether you want to become the next unicorn and looking for professionals to help you develop your Idea and find the right channels to finance it, or you want to start your own consultancy and get into the gig economy. We are here to help you.
Science Park Jönköping is a part of JU and we work on supporting students who want to start a business during their studies. All our services are confidential, and free of charge for students.
At Science Park we offer:
Business development meetings (for all kind of ideas)
Support when registering your business (and things you need)
Funding (how to fund it but also our own venture capital companies)
Expert partners (law, IP, accounting, tax questions, etc.)
Business development programs that you can combine with your studies
Networking / matchmaking
Co-working space
Events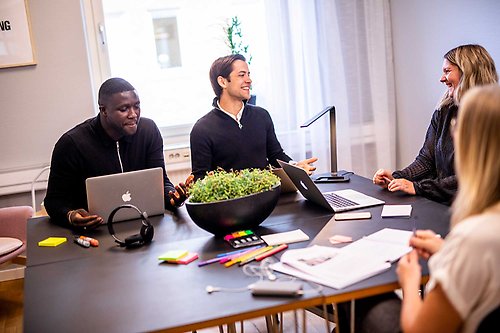 Still looking for an opportunity for you?
Then join our community "Friends of Science Park" on Facebook where you can share your experience, grow your skills, and expand your network. Science Park is the community for those who like entrepreneurship and innovations, where people from different backgrounds gather to collaborate, exchange knowledge, and inspire each other. We regularly hold lectures, workshops, networking events, and more entrepreneurial oriented activities, so follow us on social media to stay updated.