Aktiestinsen Thesis Award 2021
The winners of the Aktiestinsen Thesis Award 2021 have been announced. Emelie Ramsö and John Marhinson won the first prize of 15000 SEK for their thesis entitled "When ability and willingness is not enough: A study of Swedish family farmers implementation of circular agriculture practices based on ability, willingness, awareness and the role of institutions."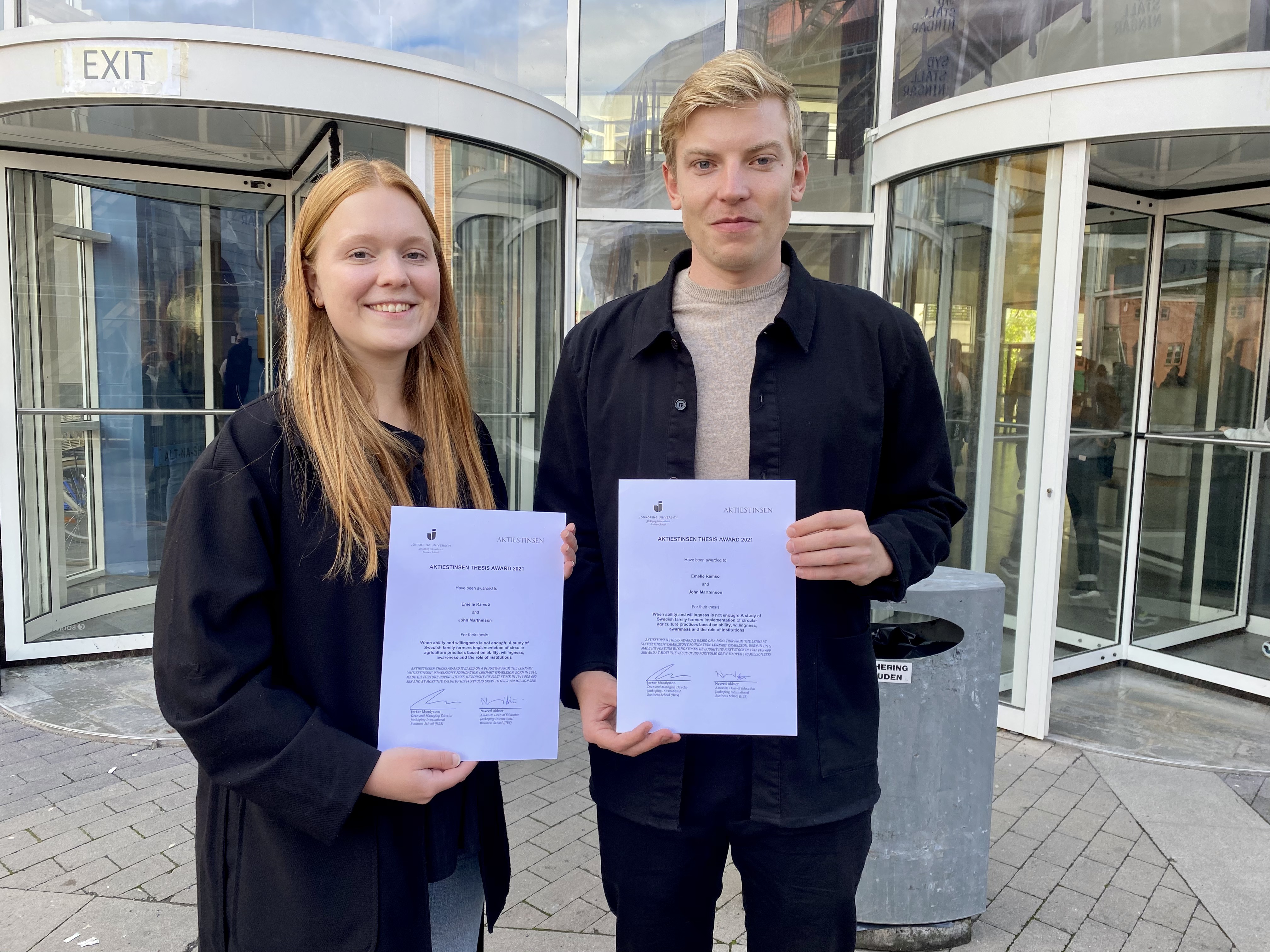 JIBS students have been invited to enter their bachelor's or master's thesis for the Akitestinsen Thesis Award 2021. The award was set up to foster entrepreneurship and its related elements as part of everyday practice and is based on a donation from the Lennart "Aktiestinsen" Israelsson's Foundation this year with the first prize of 15000 SEK and three runner-up prizes of 5000 SEK each.
The members of the Aktiestinsen's Foundation Board awarded the following students and their theses:
First prize: 15000 SEK
Emelie Ramsö and John Marthinson
Thesis: "When ability and willingness is not enough: A study of Swedish family farmers implementation of circular agriculture practices based on ability, willingness, awareness and the role of institutions."
Runners-up: 5000 SEK
Inez Lazrek and Devika Dileep
Thesis: "External Social Capital for Post-Campaign Commercialization: A multiple case study on Crowdfunded Sustainability-oriented ventures."
Runners-up: 5000 SEK
Tim Risse and Lara Sophie Kaulfuss
Thesis: "The Influence of Intellectual Capital on the Likelihood of Receiving Venture Capital Start-up Funding"
Runners-up: 5000 SEK
Arne Ibo Stein and Rein te Winkel
Thesis: "Sustainability-oriented incubators: nurturing our future heroes?"
A big thanks to all the contributors to the competition and congratulations to the awarded authors.