JU students broadcast 36 hours of radio to raise money for Musikhjälpen
Radio K, which is a student committee, a branch of the student association LOK under the School of Education and Communication at Jönköping University (JU), will together with the Student Union broadcast live for 36 hours. Music, interviews, competitions and concerts are on the schedule.
The event Radio K Bryr sig (Radio K cares) has collected money for Musikhjälpen (Music Aid) since 2016. Last year, the event was broadcast from a glass cage outside on campus, then for 24 hours straight. This year, the glass cage is assembled in Rio, the students' own café in Studenternas Hus and they extend the broadcast to 36 hours.
"We want to challenge ourselves every year and wanted to make everything bigger this year. We want two evenings of activities, starting at 10:00 on December 1 and ending at 22:00 on December 2," says Hanna Ostrander, president of Radio K.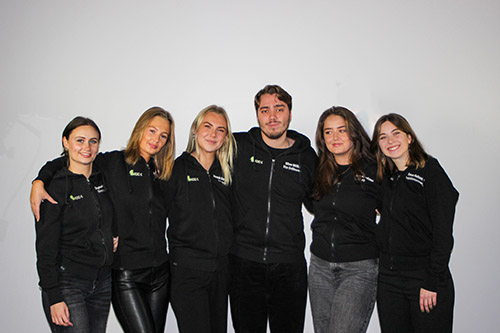 The purpose of "Radio K Bryr sig X Jönköping Student Union", as the event is called, is, in addition to collecting money for Musikhjälpen, to highlight this year's theme, which is For a safer childhood on the run from war. Last year, the students in the cage raised impressive 68,000 SEK for Musikhjälpen, and this year they are aiming for 70,000 SEK. Those who will work on the event are six students from Radio K, three from the Student Union and the new Radio K team that will take over after the turn of the year, which is five people.
The 36 hours will be filled with a variety of interviews and activities. On Thursday there will be interviews with, for example, the Student Union, Jönköping Municipality, Science Park, Erikshjälpen, Vision and several committees at JU. There will also be a quiz, a concert with a DJ as well as competitions and activities for the students.
On Friday, the radio listeners will be able to take part in a lunchtime concert and a market on campus where organizations and committees have activities. The radio broadcast ends with competitions, live auctions, a FIFA tournament and another concert.
"We are extremely grateful to everyone who contributes to make this possible. It's a chance to pay attention to what is happening in the world and give students the chance to influence and help as well. What we take for granted in our everyday life is something that not everyone can do. We do this for all the children in the world who are forced to flee from war," concludes Hanna Ostrander.
Hosts for Musikhjälpen 2022 are Oscar Zia, Tina Mehrafzoon and Klas Eriksson. On December 12, they will be locked in a glass cage, which this year is located on Kungstorget in Gothenburg. From the glass cage, they broadcast live radio (which is sometimes also broadcast on television) and collect money for a full 144 hours. The theme for Musikhjälpen 2022 is For a safer childhood on the run from war.