Nextstep connects job-seeking students with global companies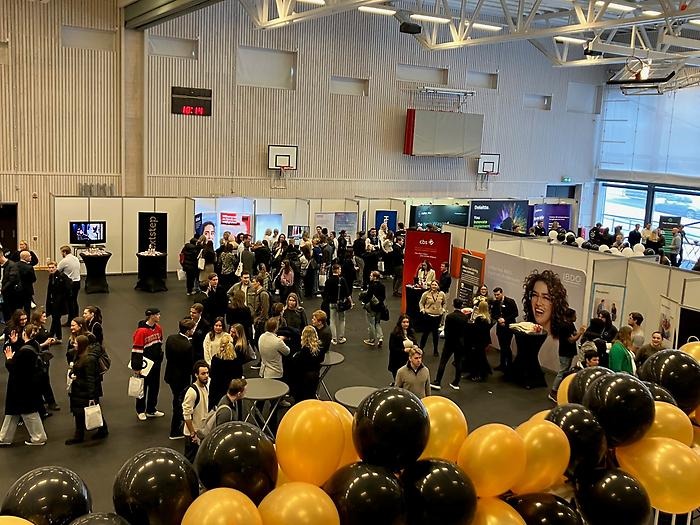 On Tuesday, 7 March, the annual career fair Nextstep took place at Jönköping University (JU). 43 international and national companies gathered at Campus Arena to meet with JU students and discuss the career opportunities awaiting them after graduation.
The career fair opened its doors at 10:00 a.m., and within half an hour, the Campus Arena was filled with JU students eager to network with representatives from the more than 40 companies exhibiting.
Nextstep is organized by Jönköping International Business School's (JIBS) student association (JSA) and has been arranged since 1994. The project group this year consisted of 22 JIBS students. Linn Hammarvid is one of the two project leaders for this year's fair, and she was happy to see the activity at the exhibitor stands.
"It's a great feeling to see everyone mingling and talking. We have worked so hard with the preparation, and to see the result is fantastic, says Linn.
Networking for the future
Three students visiting the fair were Hanna EK, Karolina Fridman and Frida Härstedt, in their third year of Civilekonomprogammet at JIBS.
"The set-up of the fair is great. We want to get in touch with companies and learn more about what the labor market looks like for us. You get many new impressions; the fair is an eye-opener to the number of career opportunities available in our field of education", says Karolina Fridman.
"It's a given to be here."
Husqvarna Group AB has taken part in the fair for several years and sees it as a golden opportunity to meet future talents.
"For us, being at the fair is a given. We are an international company with origins in the Jönköping region. Here we also find a large part of our future workforce. We are therefore keen to find the best students at an early stage. The fair's structure is great and feels professional, says Rickard Malmberg, Recruitment Partner at Husqvarna Group.
The focus does not necessarily have to be on future employment. Still, the fair also supplies a mutual opportunity to collaborate on different projects.
"Nextstep is a perfect place for us to be seen. We are always looking for hungry students who want to become part of our company in one way or the other. Since we offer thesis work, summer jobs and trainee positions, there are often good and engaging conversations. We always leave here with new and promising contacts. I especially like that the students arrange the fair", says Emelie Jonasson from Hydro Extrusions AB.
The Nextstep fair ended with a banquet for exhibitors and students at Elite hotels.