Navigating the Future of Higher-Education
"We must use the insights and expertise of our students, faculty and staff to choose a clear focus and be alert and resolute"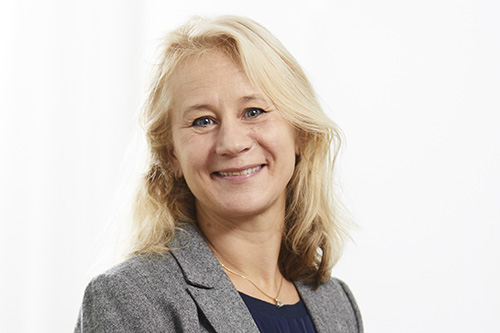 Jönköping University Foundation was founded 1 June 1994 and has since then been a knowledge hub regionally, nationally and internationally. During the first 25 years, Jönköping University (JU) has been a catalyst for changes in society in the areas of robotization, digitalisation, globalisation and sustainability. We talk to Agneta Marell, President of Jönköping, about how JU will take an active role in navigating the future.
Since the founding in 1994, Jönköping University has excelled in many areas, and two that truly distinguish JU are its international profile and its close collaboration with the public and private sector. How do you plan to develop these further?
It is true that JU has had an international character right from the very beginning, but we can expand the dimensions of internationalism further. Increasing multiculturalism, globalisation and digitisation are narrowing the sense of distance between different societies. Similarly, companies and organisations are increasing their international networks. Industry, organisations and authorities want students to leave JU with the knowledge, skills and attitudes that enable them to communicate efficiently, and work constructively, creatively and ethically in environments with cultural and social diversity.
Our ability to act as an academic catalyst and engage local actors is vital if we wish to increase our global relevancy. This requires JU to be internationally active; finding excellent academic partners and research groups. We can only attract partners and create new strategic collaborations that provide funding and education opportunities by being relevant and at the vanguard of our research fields.
What issues are most important to JU at the moment?
Sustainability has underpinned JU's operations for many years, and we acknowledge a need to further highlight our ambitions and efforts. JU is already in the process of integrating social, economic and ecological aspects of sustainability into our education, and we aim to do more. I believe that early inclusion of our students in planning for this integrated sustainability is pivotal; they are our future and we need to include them in the conversation and provisioning of what is important for our common futures.
What do you see as the main challenges that JU is facing in the future?
Increased competitiveness, both nationally and globally, has made recruitment one of our most important challenges. Our ability to recruit new students, and the best faculty and administrative staff is essential if we aspire to develop further. We must use the insights and expertise of our students, faculty and staff to choose a clear focus and be alert and resolute.
We are actively working with different forms of accreditation, among other things JU was one of the first Higher Education Institutes to earn HRS4R (the certification means that the university holds a good standard in the work on recruitment and working conditions for both national and international researchers and teachers, a European accreditation. It is crucial that JU ensures it has a robust research and education environment that responds to new conditions and societal challenges. Another opportunity is to ensure that JU is an environment that ensure lifelong learning. We want to do this by offering relevant and contemporary courses and programmes to help people do this.
Funding of higher education institutions is a recurring challenge for most Swedish and international HEIs. How will JU have to adapt to ensure we are still here in 25 years' time?
To stay attractive and relevant we need to attract funding for research, at the same time, the national higher education sector cannot rely on a large increase in state funding, particularly for research. That is why securing external funding is becoming more competitive and it is important that JU continues to attract research funding from our current sources, and that we also find new avenues for further funding.
What other types of funding will be important in the future?
Jönköping University has to maximise its collaborative efforts both nationally and internationally. Right now, JU receives only a small amount of funding from the European Commission, and it's vital that JU becomes more active in the new research and innovation programme, Horizon Europe.
Other means of funding are private actors who see the societal gain in investing in our knowledge hub and accessing our expertise. Different foundations and funds have supported JU through out the years, and we are continually grateful for the support from our financiers.
Agneta Marell is a Professor of Business Administration and has been President of Jönköping University (JU) since 1 October 2017.
She has been a member of the Jönköping University Foundation Board since 2016. Her time on the board has allowed her to become familiar with the University's ethos and vision and well-acquainted with the University's activities.
Prior to her appointment as JU president, Agneta Marell was the CEO of Umeå University Holding AB and Deputy Vice-Chancellor at the same University; roles that allowed her to focus specifically on cooperation and innovation. To add to her portfolio, she has also held several board member assignments in business and industry and has been an associate of varying scientific research councils and foundations.