Science Park, then... and now
"We basically have the same vision now as then - we want to create new businesses."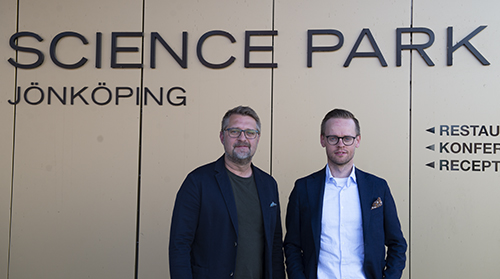 Gustav Österström is CEO of Science Park, Jönköping. He is from Tranås and studied civil engineering at Linköping University. In 2010, he started working at Science Park as a business developer. He worked with young growth industries and a few years later became business development manager. He has been CEO of Science Park for four years.
Mathias Bransmo founded Creative Center with Mattias Stark, which then became Science Park. Mathias read Computer Economics at Jönköping International Business School from 1990–1994. Today, Mathias is the CEO of Kvadrat in Jönköping after previously launching Litium Business Communication, a company that was started at Science Park. Mathias is still very engaged in business development in Jönköping today.
How did Science Park come about?
Mathias Bransmo: In my education we read a course called Creative Management, which Bill Barber was responsible for. Mattias Stark and I wrote an essay that we named; 'Creative Center - student ideas become reality'. Bill Barber thought that our essay was quite interesting, so he sent it to Clas Wahlbin who was the then president of the Jönköping University Foundation. Clas thought that Creative Center sounded very exciting and that it could be a practical complement to the theoretical study of entrepreneurship.
Clas asked us if we wanted to invest in this because in that case, he (the school) would help financially. One condition from Clas was that we had to do it as a company. "You can't teach others to start a business without having started a company yourselves". Clas arranged funding from the university and with that, the County Administrative Board and Jönköping municipality also jumped on board.
Creative Center became very popular and we met many students who wanted to start a business. We started to look a little at the concept Science Park, which already existed in some places around Sweden, as the next step for our incubator business. At the same time, we began to grow out of our former place at the university (CSN's current premises) and were commissioned by Jönköping municipality to investigate the conditions for starting a Science Park in Jönköping. The old hospital's premises were for sale and the central location combined with the proximity to the university made this the start of Science Park in 2002.
What was Science Park's vision from the beginning?
Mathias Bransmo: That a student or researcher could realize their business idea, but also that the existing business community could find a place for their innovations, if they wanted help to create them or commercialize them alongside their regular activities. But a lot was about creating new companies, a new business sector.
What is Science Parks vision now?
Gustav Österström: We basically have the same vision now as then; we want to create new businesses. We have continued to develop the fantastic business that Mathias and Mattias started, and the students and researchers are still an important part of that, there is no doubt about it. Through the years, however, we have had the opportunity to also include the existing business community and our geographical presence has widened to the entire county. We have built a regional innovation system together with Jönköping University, Jönköping municipality, the region and other municipalities in the county.
Was there a lot of interest from students in the beginning?
MB: There has always been a lot of interest, perhaps because the university have attracted students who are interested in entrepreneurship.
Is there still the same kind of interest today?
GÖ: Mathias, Mattias and Clas laid the foundation for an entrepreneurial approach at the university early on. This has kept itself going and we still have a very high flow of ideas from students. Of the 1000 ideas that our business meets each year, approximately 250 ideas come from students. We can see that it is relatively attractive today to become an entrepreneur and with the university's education, we see that JU attracts both national and international students with an entrepreneurial approach.
What were the expectations of the students, what did they want help with?
MB: There was all kind of things. Firstly, they wanted to have help developing the business idea - what they should do, for whom and why. Some came here and had very high ambitions, but really no idea. They wanted to start a business, but they didn't know what and wondered if we could help with ideas and how to finance soft development ideas and service concepts. We also helped banks and financiers understand more about these new ideas that had started to come about.
But we should remember the international business school had just been founded with a focus on entrepreneurship, so there were many who studied at the university who had high expectations, even on us. It was great, we had to work hard with coaching these students, with business concept development and we had exciting guest lecturers.
Has this changed much today?
GÖ: The questions are, to a great extent, the same now as then. The students come up with their ideas and they want help finding the way forward. The initial meetings are very much about understanding the market's needs, what solution or product to offer, who the customer is, which channels to sell through and what resources are needed. Then, as Mathias says, much focus is on financing. I do not believe, in general, that the students are as fast at starting up companies today. They are more aware and do more surveys, check the customer base and so on before they start the company.
At the start, I know that we provided computer halls where the students came to work, this type of need does not exist today. In addition, the availability of information has changed, which places new demands on our delivery.
How many ideas and companies were launched through Science Park in the first year?
MB: We met about 500 students in the first year, 25 ideas and about five became companies.
And in the past year?
GÖ: Today, the corresponding figure is that we inform about 3000 - 4000 students about Science Park's activities, we see about 250 ideas per year from students and 30 - 60 student companies are started each year. But in addition to developing ideas and companies, the most important things is that we, together with JU, train entrepreneurial students who make a difference!
How was the relationship between Science Park and Jönköping University from the beginning?
MB: It was extremely good. Especially thanks to Clas Wahlbin, and the then chairman of the university board, Per Risberg. They were incredibly supportive and without them it would have been difficult.
And what is the relationship like now?
GÖ: Jönköping University is one of our main stakeholders and principal owners, and it was at the university that we began. Together with the university and its executive team, we have built the business based on the goal of creating a common innovation system where education, research, business and the public can create the best possible conditions for entrepreneurship in the region. The work is still being carried out in close cooperation. We are extremely grateful that the university has been so committed to our development.