Sustainable development – meeting the needs of future generations
Guénola Nonet is Assistant Professor of Business Administration and has worked at Jönköping University since 2017. She is Champion for Responsibility in Action for JIBS and Leader of the JU Sustainability and Diversity Network (JUSDN). She teaches and conducts research in responsible management education, and organizational innovation.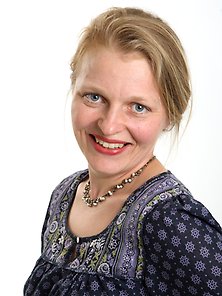 Sofia Kjellström is Professor of Quality Improvement and Leadership and has worked at Jönköping University since 2007. She has conducted research in areas such as leader and leadership development, innovation, quality improvement and co-production. She is manager of the research area: Improvement, innovation, and leadership in health and welfare (IMPROVE) and of Samskapa – an international research program on co-production.
When did JU start working with the Agenda 2030 goals, and when did you both become involved in this work?
Guénola Nonet: I think working with environmental and societal issues has always been at the heart of what people do here at JU. It might not have been called sustainability, but that's in fact what the work has been.
Sofia Kjellström: I think things started to get more formalized in 2013. I got a JU grant to do an analysis of the education and research on sustainability development here at JU. I'd been interested in environmental issues since my youth, but this is the first time I brought it into my professional life. I collaborated with researchers from the other schools to write this report and from that we formed the JU Sustainability and Diversity network.
GN: At JIBS the formal position of Champion for Responsibility in Action was set up in 2015, and I took up this position when I started working here in 2017.
Where is JU right now with sustainability? How well are we doing?
GN: There are a lot of initiatives going on right now at JU and the JU Sustainability and Diversity Network (JUSDN) and the Students for Sustainable Action (SSA) group play an important role in this.
SK: What we noticed when we did our report back in 2013 was how differently each school was approaching sustainability issues. The JUSDN network means that the schools are collaborating and learning from each other, which is very positive.
GN: Yes, these networks are made up of students and faculty from each school, who want to help transform education, make research impactful and create collaborations so that we can engage and support actions for sustainability. At the end of September, we are holding a week-long conference devoted to engaging multiple stakeholders in a dialogue around Agenda 2030.
SK: Our current President is very supportive of JU's sustainability initiatives, and since March 2019, the schools receive strategic funding for this. Working with sustainability is a process, but things are accelerating at JU.
What are the challenges for JU in terms of working towards sustainability and diversity?
GN: Sustainability is complex. Our political leaders signed up for Agenda 2030 without really having a clear idea how to do it! For higher education institutes, the challenge is the same – the educational resources for this haven't been written yet, so we must use curiosity and innovation to write the books ourselves. I see a strong desire for collaboration among the four schools, which is vital if we are going to engage everyone.
SK: When we tie in our different knowledges, great things happen! For example, I'm involved in a collaborative research project that is improving physical environments at preschools. I'm bringing in my knowledge on quality improvement and colleagues such as Tobias Samuelsson, Per Askerlund, Ellen Almers and Robert Lecusay at the School of Education and Communication are bringing their expertise on preschool education and sustainability. Together we are helping preschools create new biodiverse outdoor spaces that encourage physical and emotional wellbeing for children.
GN: Research collaborations like these are so important. The challenge will be to also help our students collaborate across disciplines, and to link theory with practice. The JU Solar Car project is a great example of this.
SK: I think what we need to focus on now is to integrate sustainability and make it a red thread throughout our education – for example, we could make sustainability development a part of the examination for our students. Equally, sustainability is about social, economic and green dimensions. Here at the School of Health and Welfare we focus a lot on the social dimension, but we need to incorporate the other dimensions as well if we are going to tackle sustainability issues.
How does JU work to inspire and equip tomorrow's leaders and professionals to take on global challenges?
GN: There are some great programmes here at JU that focus on the complexity of creating a sustainable world. Some examples are the programs Sustainable Enterprise Development (candidate) and Global Management (master) at JIBS as well as Sustainable Communication (master) at the School of Education and Communication. Sustainability is also coming into other existing programmes here at JU as well. Graduates leave here knowing that we live in a world with changing trends and complex challenges. They also know that their degree will not give them all the answers, and that they'll still need to be curious and open to learning,
SK: I am very inspired by some of the education at JU where students are given action strategies. Education is often very intellectual – its about informing and learning, but I see examples where students are also given an action to do – build a solar car, write letters to politicians, design a sustainable product etc. It's about teaching our students to think about what their part is and to take action.
What can students and employees do at JU to help shape a more sustainable future?
SK: We have so many possibilities here at JU where staff and students can get involved.
GN: They can join the JUSDN or the SSA…,
SK: …or they can nominate a rising star in our JU Sustainability and Diversity award…
GN: ...or they can join us in our "Urban farming project" on campus. Our staff and students need to get engaged! When you meet others who care, you feel more hopeful. Sometimes we think that change will happen if someone else does it, but there is no superhero who's going to solve the problem. It's up to all of us!