Nextstep - "We're meeting good students."
On Tuesday 18th February, 47 companies gathered to exhibit at the Nextstep career fair, organised by students from Jönköping International Business School (JIBS) and the School of Engineering at Jönköping University.
"We're not wasting our time being here, we're meeting good students," said Rikard Karlsson, Audit Senior Associate for PWC Sverige.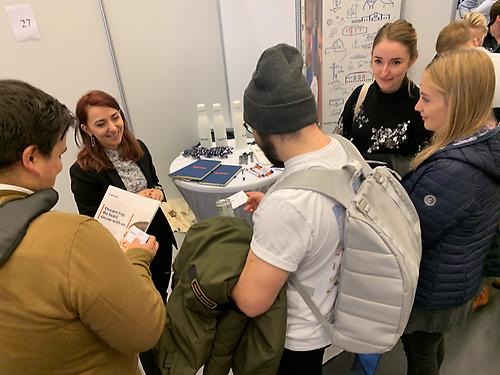 The Nextstep Career Fair opened its doors at 9.00am and, throughout the day, a steady stream of JU students came through the doors of Campus Arena to get inspired, gather information and network with the different companies who were exhibiting there.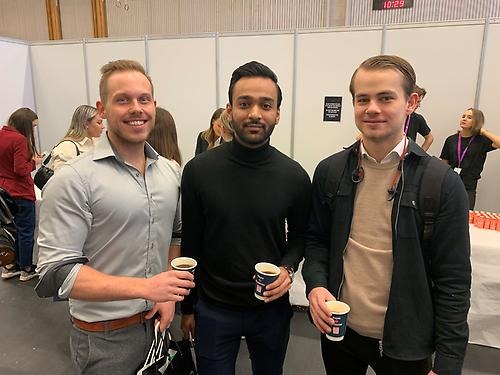 "It's been really helpful," said Robin Jonsson, a second-year student studying marketing management. "I've been talking to Volvo about their postgraduate opportunities."
"The fair is very well organised," said fellow second year student Elias Norling. "There is a good spread of companies here from a broad variety of sectors."
For the many companies exhibiting - among them PWC Sverige (who was the main sponsor of Nextstep), Volvo, Deloitte, EY and Aspia - Nextstep was a golden opportunity to meet future talent.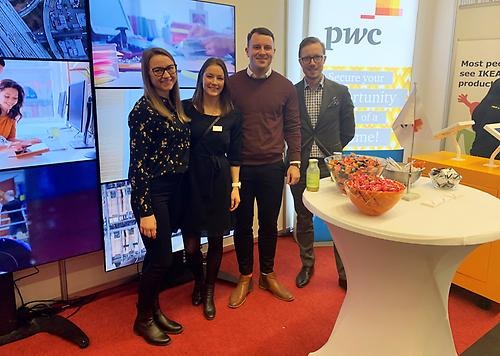 "We are here to connect with the students, to have a good chat, to hear their stories and their dreams and see if we can be a part of it," said Rikard Karlsson. 
The Nextstep career fair has been a project nine months in the making and was organised by a team of 22 students from JIBS and the School of Engineering. On the day, the team were also helped by 37 'host' students from JU.
"We are really happy with how things have gone," said Elin Jönsson, Nextstep project manager. "Our goal this year was to include some international companies in the fair, and so we are delighted that Alliance and Gartner could take part. We are also really proud that companies such as Alliance, Volvo and Jönköping Energi wanted to give lectures at the fair. Our aim is for students to get inspired about their future and we hope this has helped them take the next step in their career."
Elin Jönsson, project manager of Nextstep, explains what she and her team want to achieve with the career fair.