They became Alumni of the Year 2021
On Wednesday 22 September, the ceremony was held where five former students from Jönköping University (JU) were praised for their contribution for JU. Mats Jackson, Executive Vice President at JU, presented the prizes to the five alumni, one from each school, and from Jönköping University Enterprise. After the award ceremony, a panel discussion was held with the prize winners.
It was a grand ceremony in the JU Aula with spectators both in place in the auditorium and watching the ceremony digitally. Executive Vice President Mats Jackson handed out the prizes to the five winners and he was pleased with the event.
"This event is very important for JU and it´s incredibly fun to be able to give recognition to individual contributions through this award, but also to show how important our alumni are to us at JU. They are an important link between us and society and they are also important role models for prospective students, current students and companies. They are our most important ambassadors," says Mats Jackson.
School of Health and Welfare - Göran Sigblad
Receives the award for his efforts to develop the orthopedic engineering industry through entrepreneurship and innovative ideas.

School of Education and Communication – Farah Abadi
Receives the award for her commitment and inspiring lectures to current students studying at the School of Education and Communication.

Jönköping International Business School - Sebastiaan Mathijs Köhnke
Receives the award for his entrepreneurship that has taken his company all the way to "Silicon Valley", while inspiring current students.

School of Engineering – Anna Ekberg
Receives The award as she, in her role as a lighting designer has been involved in several national and international projects, where she has been praised for her innovative thinking.

Jönköping University Enterprise - Qiuyang Xu
Receives the award because she is a role model with her exceptional level of motivation and support for students, regardless of which programme they study at JU.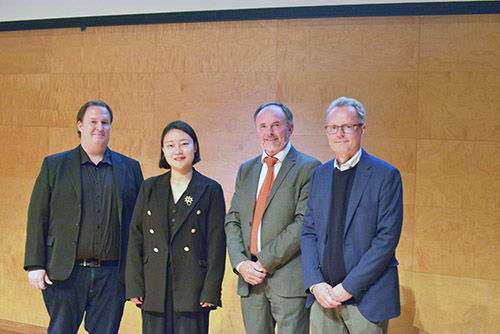 The panel discussion with the winners, which was led by Andreas Torén from the Career Center, raised questions such as what it was like to study at JU, what they miss from their time in Jönköping and their studies at JU.
"Like the others, I miss my friends from the time at JU, but I miss most things when I look back on it. I miss my tiny apartment, I miss all the cheap food I ate that did not always taste so good, but at the same time I am happy that I am now an adult and have a real job," said Farah Abadi with a smile.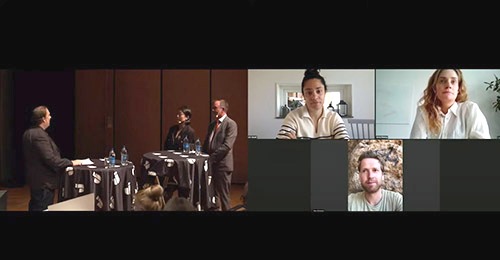 Today's ceremony Alumni of the Year was the university's first. The schools at JU work actively with the alumni and a collective approach will now be taken. The Alumni of the Year will be an annual event.