Thrilling 24 hour Case for innovative JU students
Last week, 15 student teams took part in the 24 hour Case 2021, which this year partly took place online due to the Covid-19+. The challenge was arranged by JIBS Case Academy and Science Park and was open to all JU students. Working in teams, the competitors were asked to come up with innovative ideas or strategies on how to develop the cooperation between Science Park and JU students.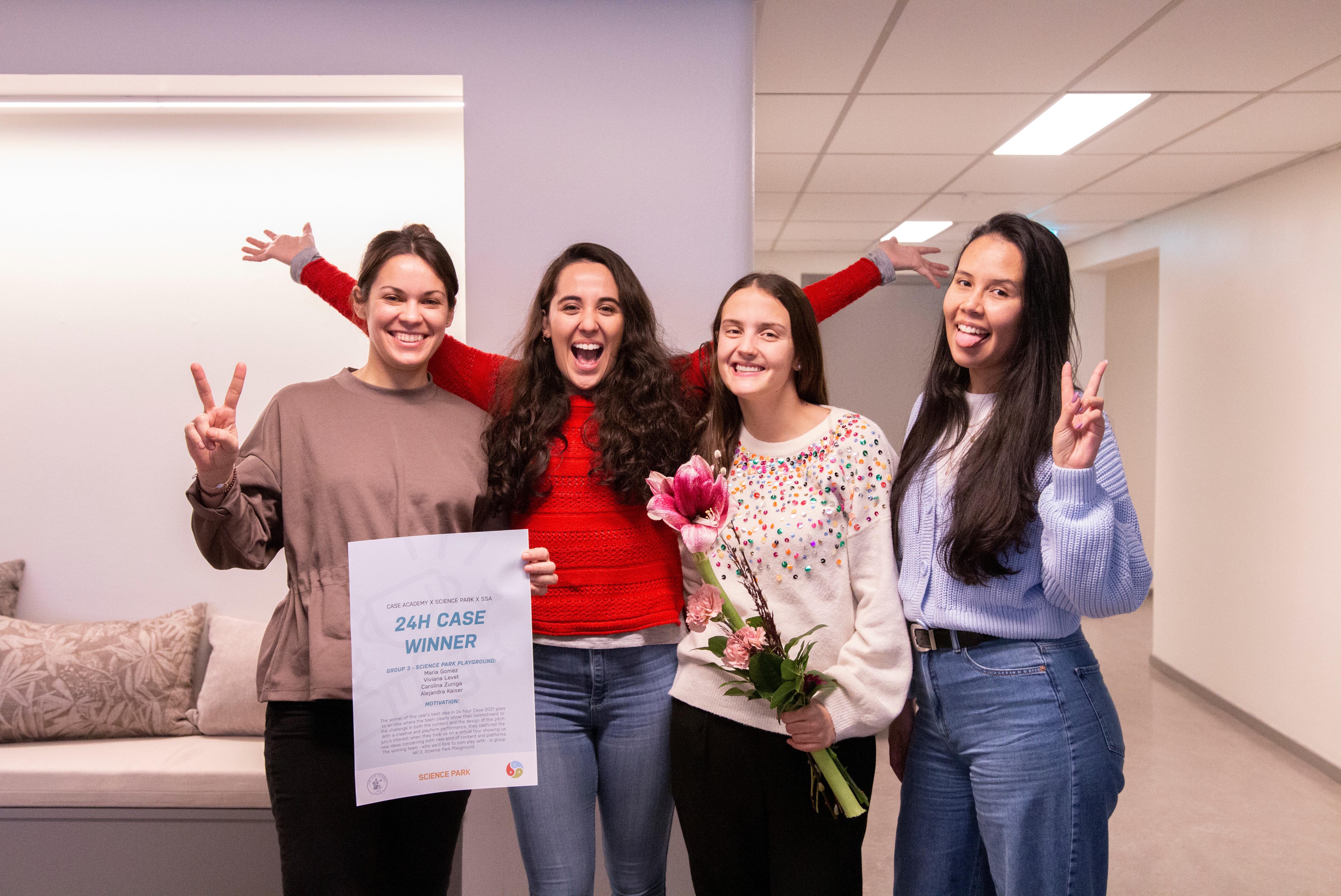 As a group, design a new set of ideas / a strategy on how Science Park should approach and engage JU students in the future.
This was the challenge that the competing student teams were presented with at 09.00 on Thursday 9 December. They then had 24 hours to come up with a solution, prepare a pitch, and then present it to a panel of jurors in the online final at 11:00 on Friday 10th December.
Some teams worked on campus and were given a specially allocated room to isolate themselves in.
"Science Park's Playground" winners
The first prize of 10 000 kronor went to students Maria Gomez, Viviana Levet, Alejandra Kaiser (all studying a master's degree in Sustainable Communication), and Carolina Zuniga (studying a master's degree in Digital Business), for their idea "Science Park's Playground". Their solution was built on creating conditions for a more playful and creative way of cooperation.
"We loved the challenge. We could really play with our creativity, and we all contributed to the idea. It was a buildup in which we had a really good time working together as friends and as a team. We imagined the case as a person with human or cartoon features to solve the problem. We brainstormed about what kind of music he/she heard, what he/she likes to do, and from there we started to understand what we needed to do.", says Vivianna Levet.
Creativity and playfulness were essential for the group in their coming up with the solution. They believe that humor and joy are essential when solving everyday problems. According to the jury's motivation, this was a perfect way to approach the challenge:
Motivation:
The winner of this year's best idea in 24 hour Case 2021 goes to an idea where the team clearly show their commitment to the challenge in both the content and the design of the pitch. With a creative and playful performance, they captured the jury's interest when they took us on a virtual tour showing us new ideas concerning both new kinds of content and platforms. The winning team – who we'd love to come play with – is group Nr 3. Science Park Playground.