Congratulations to all newly graduated students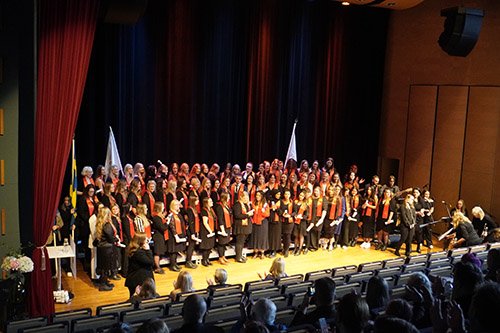 On Friday 20 January, students who have studied nursing, social work, and specialist nursing at the School of Health and Welfare (HHJ) and School of Education and Communication (HLK) at Jönköping University were examined. Congratulations!
Due to the pandemic, the graduation ceremonies have been held digitally for the past two years, but now the students could be there in person, which of course gave more of a party atmosphere. The closing ceremony for HHJ's students was held in Pingstkyrkan, while the ceremony for HLK's students was held in the JU auditorium at HLK. (See slideshow below)
"Studying here at HLK has been very rewarding, sometimes very difficult, but it has gone well and extremely quickly. I have made friends for life, so it feels amazing. I already got a job where I worked extra before I started studying, that's nice. The graduation ceremony has been absolutely fantastic," says Isabella Ladan, who graduated from the pre-school teacher programme.
Even at Pingstkyrkan, there was an upbeat atmosphere.
"These three years have been tough, so it feels good to be finished now as a nurse. I look forward to starting work," says Edvard Göransson.
Jönköping University congratulates all students who graduated today and thanks you for these years together. We also know that you are very much awaited on the job market, and we wish you the best of luck in the future!