A good start for JU Rowing
Recently the university's newly established rowing team took fourth place in a rowing marathon in Düsseldorf. Many students have been keen to join the university rowing team.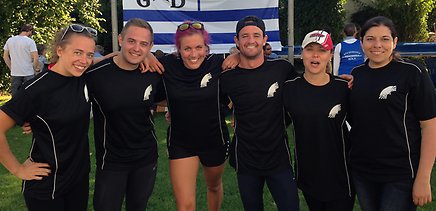 It was a cause of sensation that JU Rowing took fourth place in their first race. The crew was only two minutes behind the bronze medallists.
- If our crew would have competed in the normal distance of 2000 meters, they would only have been 5 seconds or 30 meters from winning a medal, says Carter Arnold of Jönköping Rowing Club, who coaches the team.   
The initiative to start a rowing team was taken by President Anita Hansbo in May 2014 when Jönköping University Foundation celebrated its 20th anniversary. With the help of gifts from partners the university will now be able to buy two rowing boats of their own.  
Among the students the interest has been greater than expected. Information was sent out to all students at JU at the beginning of the semester, which resulted in 80 students signing up to join the rowing team. Of these initial 80, 40 students now train on a regular basis. The students represents JIBS, the School of Engineering and the School of Education and Communication and several of them are international students.
- We didn't expect such a great interest in joining the rowing team and it feels really great that so many students are committed to this, says Mona Sörman who is JU's contact person for JU Rowing.