16th EIASM Workshop on Family Firm Management Research
EuFBC, Online – May 23-25, 2019
Family Firms Between Local and Global Challenges
Massimo Baù and Kajsa Haag
CeFEO, Jönköping International Business School, Sweden
Pramodita Sharma
Grossman School of Business, University of Vermont
"Pioneering Family Firms' Sustainable Development Strategies"
Liselotte Hägertz Engstam
Chair of Boards Impact Forum, Sweden
"Engaging board directors to accelerate climate actions and innovation for sustainable business"
Jörn Block
University of Trier, Germany
"Bridging locality and internationalization: the hidden champion phenomenon"
Andrew Bryson
Family Business Network
"Family Business for Sustainable Development"

The current pandemic and its consequences forced every scholar to reflect about sustainable development, networks, and opportunity for establishing collaborations in different forms. The 16th EIASM Workshop on Family Firm Management Research represents a unique opportunity for engaging in such discussion.
Family firms are often torn between their local and global environments. They are visible and embedded in their environment, facing the responsibilities of contributing to a sustainable development of their local communities. At the same time, with their products, services, and international supply chain networks, family firms face the global challenges and share the responsibility of achieving the Sustainable Development Goals (SDGs).
The central theme of the Workshop is 'Family Firms between local and global challenges', but we welcome all research papers contributing at expanding the frontiers of family business research. For example, we welcome paper exploring the intersection between family business and Innovation, Digitalization, Internationalization, Governance, Marketing, Entrepreneurship, Practice, Emotions, Ethics, HR, Careers, Strategy, and Sustainability.
The 16th EIASM Workshop on Family Firm Management Research was co-organized by CeFEO and EuFBC as conversation that took place between September 16 and October 21, 2021. The event was distributed over 6 days, being a regular appointment, every Thursday from 15:00 to 18:00 for all participants to the conference.
In 2021, the European Family Business Research Centers (EuFBC) network was formed by 15 of the largest research centers conducting research in the field of family business in Europe. Each center actively participated and contributed to the workshop by offering keynotes and activities to all the participants.
With the support of the centers of the EuFBC network we explored and discussed the emerging topics in family business, with a particular attention toward the challenges and opportunities in the current global scenario. Each day of the conference, three EuFBC centers presented three keynote speeches that will introduce the topics of the sessions.
After, the papers connected to the topics of the day have been presented in parallel sessions. As a conclusion of the activities of every conference day, the EuFBC centers organized a one-hour session dedicated to looking for inspiration for future research opportunities.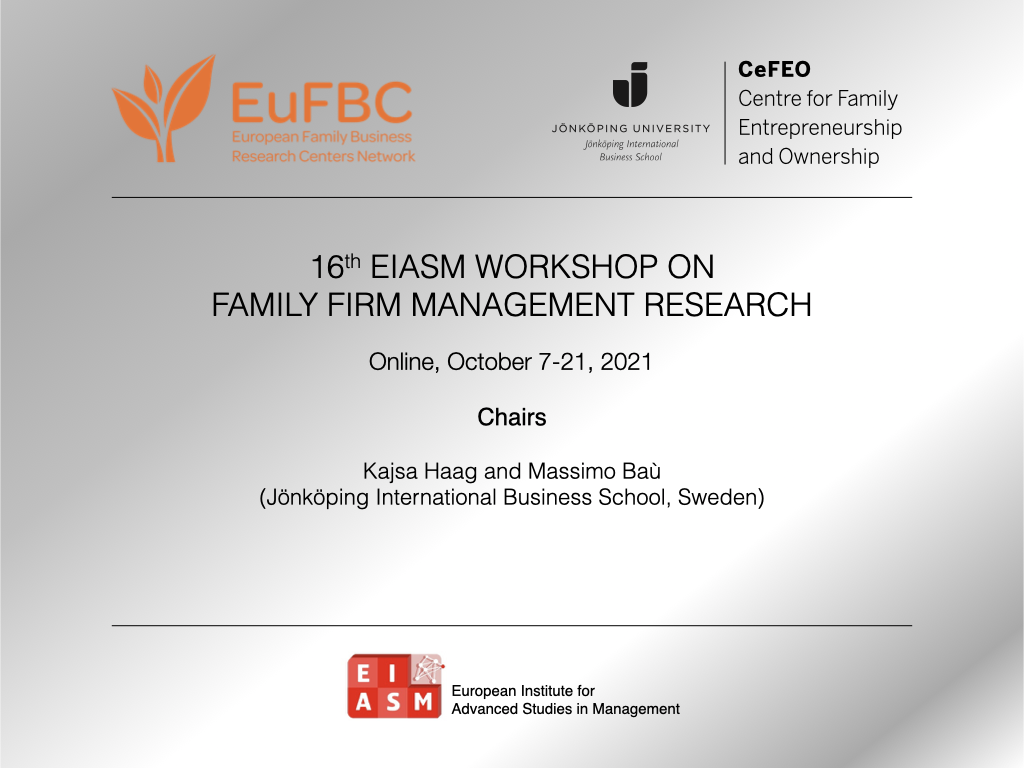 Alfredo De Massis, Free University of Bolzano
Andrea Calabrò, IPAG
Carlo Salvato, Bocconi University
Giovanna Campopiano, Lancaster University
Judith Van Helvert-Beugels, Windesheim Univ.
Nadine Kammerlander, WHU
Nava Michael Tsabari, Tel Aviv University
Philipp Sieger, University of Bern
Rania Labaki, EDHEC Business School
Reinhard Prügl, Zeppelin University
Thomas Zellweger, University of St. Gallen
Tommaso Minola, University of Bergamo
Valentina Lazzarotti, Università Cattaneo LIUC
Wim Voordeckers, Hasselt University

Frederik Riar, University of Bern
Valentino D'Angelo, Bocconi University
Jasper Brinkerink, Free University of Bolzano
Rüveyda Kelleci, Hasselt University
Issam Mejri, IPAG
Bingbing Ge, Lancaster University
Barbara Maggi, Università Cattaneo LIUC
Mara Brumana, University of Bergamo
Josh Hsueh, University of St. Gallen
Julia de Groote, WHU
Rosemarie Steenbeek, Windesheim University

EuFBC – European Family Business Reseach Centers
The European Family Business Reseach Centers (EuFBC) network is a joint initiative of a group of some of the largest Family Business Centres in Europe, from nine different countries. The goals is to offer a common platform for scholars across the continent to present and debate state-of-art academic research on family business, business families, and family entrepreneurship. The members of EuFBC are:
Bocconi University (Italy), Chair in Strategic Management in Family Business

EDHEC Business School (France), EDHEC Family Business Research Centre

Free University of Bozen-Bolzano (Italy), Centre for Family Business Management

Hasselt University (Belgium), Research Centre for Entrepreneurship and Family Firms

IPAG (France), Family Business Institute

Jönköping International Business School (Sweden), Centre for Family Entrepreneurship and Ownership

Lancaster University (United Kingdom), Centre for Family Business

Tel Aviv University (Israel), Raya Strauss Center for Family Firm Research

Università Cattaneo LIUC (Italy), FABULA Family Business Lab

University of Bergamo (Italy), Center for Young and Family Enterprise

University of Bern (Switzerland), IMU-U and IOP-P

University of St. Gallen (Switzerland), Center for Family Business CFB-HSG

WHU (Germany), Institute for Family Business and Mittelstand

Windesheim University (The Netherlands), Dutch Centre of Expertise in Family Business

Zeppelin University (Germany), Friedrichshafen Institute of Family Business