Management Challenges in Different Types of African Firms
Achtenhagen L., Brundin E.
Springer, 2017
Leona Achtenhagen, Jönköping International Business School, Sweden
Ethel Brundin, Jönköping International Business School, Sweden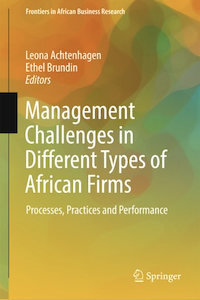 This book focuses on management challenges in different types of companies, ranging from small to large, from private to public and from service to manufacturing in the African context.
With empirical data from countries as diverse as Rwanda, Kenya and Ethiopia, it discusses the increasing economic importance of the African continent, covering relevant topics on sustainability and environmental issues, exports, logistics, HR issues, innovation and financial reporting.
Through different conceptual insights and empirical case studies, the research presented serves as a useful resource for academics, students, and policy-makers interested in in-depth studies on management challenges in Africa.