An Alternative Approach to Family Business
Ericson M.
Edward Elgar, 2022
Mona Ericson, Professor Emerita of Strategy and Organization and CeFEO Affiliated Professor, Jönköping International Business School, Sweden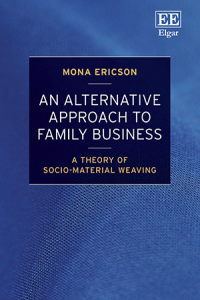 This insightful and innovative book proposes a new theory of socio-material weaving for studying and understanding family business. It dissolves the family business into activities, constituted of the sociality of human interactions and relations and interwoven with materials that extend in both a bodily-lived and spatial existential sense.

Building on hermeneutic phenomenology, Mona Ericson explores a new approach to the field, which shifts focus away from entitized conceptions of family business contexts. Building on a 'being-in-the-world' understanding, the book emphasizes human entwinement with activities in amongst materials.
Chapters draw insights from research on the social and the material, exploring the field through five unique stories that illustrate the intertwinement of family business activities and materials associated with buildings and land. Taking a critical stance towards systems-oriented family business research, Ericson weaves together the social and the material in association with narrative truth.
An innovative and imaginative exploration of an established field of study, this book is crucial reading for scholars, researchers and graduate students of family business, opening up new ways of approaching the field in scholarly work. It will also benefit practitioners through practical insights into the challenges family business owners face when establishing and managing business activities.