Family Businesses Dynamics
Hall A.
Edward Elgar, 2012
Annika Hall, Jönköping International Business School, Sweden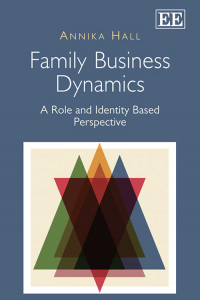 This engaging book reveals how and why family relations influence the dynamics of family owned businesses. The author examines the relevance of role and identity to the strategic development and the succession process of family businesses. She explores the individual and organisational implications of these roles and identities at different stages in the family and business life cycles.
Annika Hall highlights that family businesses have inherent dynamics, rooted in family relations, that might advantage business development assuming that the family is able to meet the inherent challenges of role transition. The book connects micro, socio-psychological aspects to more macro business outcomes, with the purpose of elaborating how and why these connections are made.
Expertly integrating a detailed case study and by concluding with concrete advice, the closeness to practice is explicit and therefore strongly appealing to practitioners. By also integrating the practice with theory, the book will prove essential for academics and students of interpretive methodology and/or family business.