Moral Human Agency in Business: A Missing Dimension in Strategy as Practice
Ericson M.
Cambridge University Press, 2018

Mona Ericson, Professor Emerita of Strategy and Organization and CeFEO Affiliated Professor, Jönköping International Business School, Sweden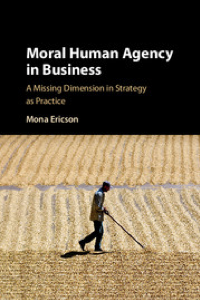 In recent years, corporate accounting scandals have received considerable media attention, raising concerns about unethical practice in the business world. Faced with a decline in society's trust in business, research into the ethics of organisations and their leaders is now of critical importance.
In this timely book, Ericson focuses on the moral human agency involved in business by leading the reader through the full span of the activities involved in coffee production, from-bean-to-cup.
Illustrating the ethical implications and opportunities involved in producing Löfbergs coffee, Ericson highlights the importance of the morally-imbued connections made between practitioners and other participants.
These activities can contribute to a sustainable, profitable and competitive future whilst, at the same time, accounting for justice through a reciprocity of mutual benefit, respect and meaning. Promoting the reintroduction of ethics in strategy research, this book will be of great interest and use to strategy researchers, business leaders and sustainability directors.