Theoretical Perspectives on Family Businesses
Nordqvist M., Melin L., Waldkirch M., Kumeto G.
Edward Elgar, 2015

Mattias Nordqvist, Jönköping International Business School, Sweden
Leif Melin, Jönköping International Business School, Sweden
Matthias Waldkirch, Jönköping International Business School, Sweden
Gershon Kumeto, Jönköping International Business School, Sweden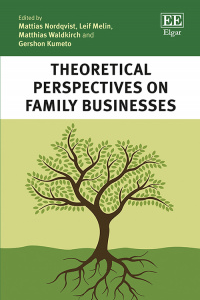 Family business has become an increasingly studied field over the last decade and forms one of the fastest growing research areas today. The uniqueness of family business is the interaction between two systems: the family and the firm.
The two systems leadin to specific characteristics that we rarely see in other types of businesses. In order to understand the unique interaction between these two systems, researchers have adopted a diverse range of theories drawn from different fields.
The contributors to this volume provide a thorough discussion of 13 theoretical perspectives that have been used in family business research. Each chapter introduces a theory, demonstrates its previous application in family business research and offers compelling ideas for future research that could contribute to both the family business field and the original theory behind it.
This book aims to spark new insights for researchers and PhD students in the field of family business, and is also a good introduction for researchers who are new to the field. Policymakers and practitioners will find this an enlightening resource